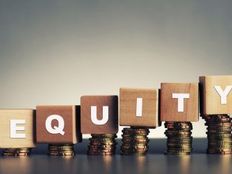 Is 2023 truly the year of active ETFs? Yes, active ETFs have become more popular. However, not all active strategies are taking the moment by the horns and showing why they deserve a place in portfolios. There is one active equities ETF, though, that has carried the torch for actives so far in 2023. The T. Rowe Price U.S. Equity Research ETF (TSPA B-) has outperformed the SPDR S&P 500 ETF Trust (SPY A) YTD. Its outperformance of the largest indexed ETF may invite investors to take a closer look at TSPA.
The strategy launched back in June 2021, returning 22.3% over the last year, as well. The active equities ETF has outperformed its ETF Database category average and FactSet segment average both YTD and over one year. What's more, it's done so with an intriguing 34 basis point (bps) fee, which sits at the lower end of active ETF fees.
Observing the Outperformance
That outperformance may stem from its approach to providing S&P 500 exposure. Rather than simply tracking the index, TSPA looks to overweight or underweight its holdings based on fundamental research. At the same time, the fund aims to be sector-neutral, weighting each industry close to the index overall. Active management often relies on managers' expertise, and in this case, it adds an extra edge beyond simply investing in the S&P 500.
The active approach has a team of lead portfolio managers overseeing the security recommendations of more than 30 industry-specific analysts. The goal is to deliver similar risk and economic exposure metrics as the benchmark but to gain its edge through security selection and forward-looking analysis.
See more: Investors to Up Active ETF Allocations in '24, '25
TSPA, for example, weights Eli Lilly and Company (LLY) much higher than SPY weights the firm. The same applies to Nvidia (NVDA), which is weighted higher in TSPA than LLY, while TSPA also underweights Johnson & Johnson (JNJ). TSPA hasn't just stood out by performance, either. Its price is well above its 50- and 200-day simple moving averages (SMAs).
The active equities ETF will hit its three-year mark next year. For those looking to add active ETF exposure to their portfolios, the strategy beating SPY this year may merit a closer look.
For more news, information, and analysis, visit our Active ETF Channel.
---
Content continues below advertisement