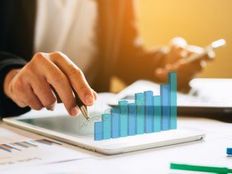 Using active management to identify idiosyncratic stock ideas is key to pursuing alpha, according to David Eiswert, a portfolio manager in the U.S. Equity Division of T. Rowe Price. In an , the portfolio manager for the Global Focused Growth Equity Strategy said that "being active" and  "going against market sentiment when it is appropriate" is what the money manager does best — and the best way to find strong investment opportunities.
"Finding those idiosyncratic ideas is what we do best, in my opinion. That means being active but also testing and perhaps going against market sentiment when it is appropriate," Eiswert said. "That is the way to find the best ideas to include in the portfolio."
Eiswert added, "Having that laser focus on fundamentals and finding insights about improving economic returns is what can differentiate you from the pack and add value for clients."
Amid a period of a pandemic, the war in Ukraine, record-high inflation, and aggressive monetary tightening from the Federal Reserve, T. Rowe has sought sources of opportunity, including "discounted entry points for compelling and rare businesses," which Eiswert said, "requires an active and forward‑looking approach."
"Staying engaged with stocks during periods of distressed sentiment has been important to fully benefit from the transition in sentiment from 'despair' to 'hope,'" he explained. "While it is always tempting to wait for patterns of recovery to be established, history teaches us that the early identification of fundamentals stabilizing, or the 'stop getting worse' point, has been central to return generation."
While in a bear market and possibly facing a recession, "volatility has historically proven to present opportunities." And the opportunity set is among the broadest Eiswert has seen "for some time."
"Innovative, high‑growth companies are trading at much more reasonable valuations, while idiosyncratic stock ideas not tied to broader market direction are also a focus," he said. "Geopolitical and macroeconomic uncertainty will remain part of the near‑term environment, but long term, stock prices are ultimately driven by changes in earnings power and cash flow generation."
As part of its , T. Rowe Price offers a suite of actively managed equity ETFs, including the (TCHP C+), the (TDVG B), the (TEQI B), the (TGRW C), and the (TSPA C).
T. Rowe Price has been in the investing business for over 80 years through conducting field research firsthand with companies, utilizing risk management, and employing a bevy of experienced portfolio managers carrying an average of 22 years of experience.