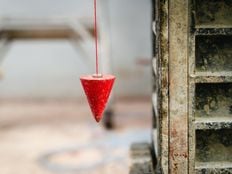 The fallout from the collapse of Silicon Valley Bank and Signature Bank continues. Stocks fell on Wednesday as pressure on the banking sector rose. In particular, shares of Credit Suisse plummeted more than 20%, hitting an all-time low.
The Swiss Bank's stock price fell after acknowledging in its latest annual report that it found "material weakness" in its financial reporting. Credit Suisse CEO Ulrich Koerner said on Bloomberg Television Tuesday that the company is "addressing and remediating" the issues in its reporting "forcefully."
Making matters worse for Credit Suisse, the head of its largest shareholder, Saudi National Bank, said on Wednesday that it would not buy more shares in the bank, citing regulatory issues.
"We cannot because we would go above 10%. It's a regulatory issue," SNB chairman Ammar Al Khudairy told Reuters. SNB holds a 9.88% stake in Credit Suisse.
Bright Spots Amid the Chaos
While stocks fell during trading on Wednesday (with the S&P 500 even dropping so low it briefly turned negative for the year), there were some bright spots. Samantha Subin from CNBC reported that Some technology and software stocks outperformed as of midday Wednesday, including Microsoft, Netflix, Alphabet, and SentinelOne.
This just goes to show that a) surprises can and will always spring up when you least expect them, and b) even during selloffs, there are opportunities for growth. This is where active management can come into play.
While passive strategies lack the flexibility to adapt to changing market environments, active ETFs can offer the potential to outperform benchmarks and indexes. Plus, active managers with greater resources and greater scope benefit from economies of scale, which can often translate to better returns.
As part of its lineup of active ETFs, T. Rowe Price offers a suite of actively managed equity ETFs, including the (TCHP C+), the (TDVG B), the (TEQI B), the (TGRW C), and the (TSPA B-).
T. Rowe Price has been in the investing business for over 80 years through conducting field research firsthand with companies, utilizing risk management, and employing a bevy of experienced portfolio managers carrying an average of 22 years of experience.
For more news, information, and analysis, visit our Active ETF Channel.
---
Content continues below advertisement