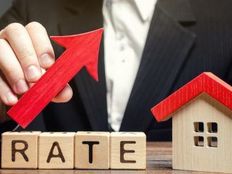 More advisors are seeing the need to add active management to their portfolios, given the likelihood that the Federal Reserve will continue to raise interest rates. In a post-viewer poll following the VettaFi webcast, Active Strategies for Rising Rate Headwinds, most respondents said they are concerned that owning passive index-only ETFs will leave them too exposed to market conditions without forward-looking risk controls or the ability to pivot, with 39% saying they are "very concerned" and 22% admitting they are "somewhat concerned."
Looking ahead to this year, the vast majority of respondents expect to increase their exposure to active ETF strategies, with 50% being "very likely" and 39% saying they are "somewhat likely" to add this allocation to their portfolios. Of those considering active fixed income in the near term, 39% of respondents said they would most likely consider high yield/bank loan funds for exposure, while 27% said they would consider active short-term bond funds. Meanwhile, 20% are contemplating core-plus, and 14% are thinking about core bond funds.
"With the heightened market volatility of 2022 likely to persist into the new year, advisors are increasingly interested in ETFs where, rather than shifting to a more offensive or defensive stance, they can take advantage of the expertise of managers who can shift exposure based on the latest developments," said Todd Rosenbluth, head of research at VettaFi.
With the Fed continuing to tighten monetary policy, actively managed fixed income strategies could help mitigate risk. While passive strategies lack the flexibility to adapt to changing market environments, active ETFs can offer the potential to outperform benchmarks and indexes. Plus, active managers with greater resources and greater scope benefit from economies of scale, which can often translate to better returns.
As part of its lineup of active exchange traded funds, T. Rowe Price offers a suite of actively managed fixed income ETFs, including the T. Rowe Price QM U.S. Bond ETF (TAGG C+), the T. Rowe Price Total Return ETF (TOTR C), the T. Rowe Price Ultra Short-Term Bond ETF (TBUX B-), and the T. Rowe Price U.S. High Yield ETF (THYF A-).
"When things are going sideways, that's where active managers can alleviate some of the burden from the investor," said Neil E. Kays, senior product marketing manager at T. Rowe Price.
T. Rowe Price has been in the investing business for over 80 years, conducting field research firsthand with companies, utilizing risk management, and employing a team of experienced portfolio managers carrying an average of 22 years of experience.
For more news, information, and analysis, visit our Active ETF Channel.