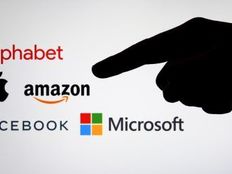 Big tech had a rough year in 2022. And with Google, Microsoft, Amazon, and Facebook having announced massive layoffs, it doesn't appear as though 2023 will be the sector's comeback year. And based on the recent lackluster earnings from Apple, Amazon, and Google parent Alphabet, it could be argued that the glory days of big tech are in the rearview.
In fact, that's exactly what the Washington Post is arguing. "The golden age is over," according to the news outlet. "Speeches about austerity have replaced the free-flowing stock grants and free sushi lunches."
Apple missed revenue, profit, and sales expectations for many of its lines of business, with overall sales for the holiday quarter down 5% from last year's, the company's first year-over-year sales decline since 2019. Amazon, meanwhile, posted slowed growth in its retail and cloud computing businesses, while giving a pessimistic guidance. And Alphabet fell short of expectations on revenue and earnings per share, as its advertising declined year-over-year.
The end of big tech's heyday shows that investors can no longer simply park their money in a large-cap index fund. That's where active management can come into play.
While passive strategies lack the flexibility to adapt to changing market environments, active ETFs can offer the potential to outperform benchmarks and indexes. Plus, active managers with greater resources and greater scope benefit from economies of scale, which can often translate to better returns.
"Company fundamentals regularly shift, and skilled managers of active ETFs are able to adjust the portfolio to reflect what is likely ahead," said Todd Rosenbluth, head of research at VettaFi. "Index-based ETFs must continue to hold onto shares of companies facing operational challenges."
As part of its lineup of active exchange traded funds, T. Rowe Price offers a suite of actively managed equity ETFs, including the (TCHP C+), the  (TDVG B), the (TEQI B), the (TGRW C), and the (TSPA B-).
"When things are going sideways, that's where active managers can alleviate some of the burden from the investor," said Neil E. Kays, senior product marketing manager at T. Rowe Price.
T. Rowe Price has been in the investing business for over 80 years, conducting field research firsthand with companies, utilizing risk management, and employing a team of experienced portfolio managers carrying an average of 22 years of experience.
For more news, information, and analysis, visit our Active ETF Channel.