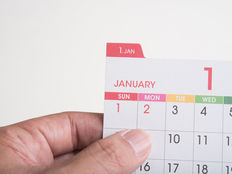 As 2022 ends, investors may want to brace themselves for more volatility in January. But it would be a mistake for long-term investors to not invest in equities, since according to Savita Subramanian, head of U.S. equity and quantitative strategy at Bank of America Securities, "we're setting ourselves up for a better long term bull market."
"I would get ready for a very volatile January. I think the higher the market goes in December, the worse it's going to be in January," Subramanian said on CNBC's , before adding: "But I do think there are places to be."
Subramanian said that "the key risk right now is not being invested in any equities."
"I think you need to pick your spots," she explained. "If you have a longer than a year time horizon, I think you should remain invested and maybe potentially add exposure to sectors."
BofA's valuation framework forecasts that investors could expect to see "to see 5% returns per annum over the next 10 years" (8% if you include the 3% dividend returns). In fact, Subramanian said it's possible that the market "could double over the next 10 years" for investors who "remain disciplined" and reinvest their dividends."
For long-term investors who want to stay in the market and remain disciplined, active management can help. While passive strategies lack the flexibility to adapt to changing market environments, active ETFs can offer the potential to outperform benchmarks and indexes. Plus, active managers with greater resources and greater scope benefit from economies of scale, which can often translate to better returns.
As part of its , T. Rowe Price offers a suite of actively managed equity ETFs, including the T. Rowe Price Blue Chip Growth ETF (TCHP C+), the T. Rowe Price Dividend Growth ETF (TDVG B), the T. Rowe Price Equity Income ETF (TEQI B), the T. Rowe Price Growth Stock ETF (TGRW C), and the T. Rowe Price US Equity Research ETF (TSPA B-).
"Active managers have the flexibility to take advantage of market volatility and add to favored positions when prices become more attractive," said Todd Rosenbluth, head of research at VettaFi.
T. Rowe Price has been in the investing business for over 80 years through conducting field research firsthand with companies, utilizing risk management, and employing a bevy of experienced portfolio managers carrying an average of 22 years of experience.
For more news, information, and analysis, visit the .
---
Content continues below advertisement