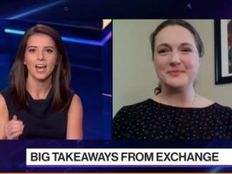 VettaFi editor-in-chief Lara Crigger appeared on Bloomberg's "ETF IQ" to discuss Exchange with Katie Greifeld, Matt Miller, and Eric Balchunas.
ETFs Are Getting Active at Exchange
Active management was a huge theme at Exchange. According to Crigger, "Active management was one of those things that just dominated the conversations both on and off the stage." Crigger noted that 55% of all launches last year were active and pointed out that there was additional conversation at Exchange regarding how to use passively managed ETFs in active ways.
Asked about who would win the arms race for active, Crigger said, "I think we're going to see a lot of flows going into some of these issuers who can bring their own assets to the table." Crigger offered Dimensional as an example of an issuer that used mutual fund conversions to quietly bring in billions of dollars to the active ETF space. "Morgan Stanley is another big example," she added.
---
Content continues below advertisement
ESG Debate Continues
Balchunas shared that Morgan Stanley's partnership with Calvert brings the ESG debate to the table. "It's going to be a tough market for them because ESG is on the label there, and ESG, as we've seen in the last year or so, has really faded off in the consciousness of something that investors are really seeking out," Crigger said.
Crigger observed that the nature of ESG is changing, however. It's harder for investors to wrap their heads around abstract ESG scores than it is for them to understand investing around themes such as energy transition, critical metals, and carbon capture. "That's going to be where the money flows, and that's where the money is flowing now."
How to Talk About an ETF
Crigger proffered that "distribution is increasingly becoming this uncrackable nut," and observed that the newer ETFs that are finding success are the ones that have a clear and obvious story to tell, and concretely solve a problem. ETFs that make sense and solve a problem for investors will likely be the ones that see flows in the future.
For more coverage of the Exchange conference, visit VettaFi | ETF Trends.