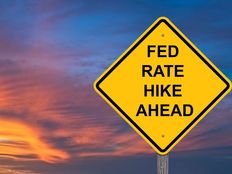 After the Federal Reserve raised interest rates by 25 basis points last week, investors assumed that the U.S. central bank was nearing the end of its rate hikes. After all, inflation had been cooling down, and the latest rate hike was lower than December's increase of 50 basis points, and the previous four rate bumps of 75 bps. But now, because of numerous conflicting data, Wall Street's not so sure.
Investors previously expected the Fed to make one more rate increase in March before cutting rates later in the year. Now, many don't expect the Fed to make its first rate cut until 2024.
"We've reassessed the number of hikes and also the endpoint of the hiking cycle has moved further out," said Priya Misra, head of global rates strategy at TD Securities, told MarketWatch.
While inflation is going down, last week's strong jobs report emphasized why Fed officials expect more rate hikes to come.
"It kind of shows you why we think this is a process that will take a significant period of time," Federal Chair Jerome Powell said in a discussion at the Economic Club of Washington, DC. "I think it underscores the message… that we have a significant road ahead to get inflation down to 2%."
Added Powell: "There has been an expectation that [inflation] will go away quickly and painlessly; I don't think it's guaranteed that's the base case. It will take some time."
If the end of the Fed's expected rate cycle is indeed further out on the horizon, that means more tightening, a prolonged fight to curb inflation, and, of course, more uncertainty. That's where active management can help.
While passive strategies lack the flexibility to adapt to changing market environments, active ETFs can offer the potential to outperform benchmarks and indexes. Plus, active managers with greater resources and greater scope benefit from economies of scale, which can often translate to better returns.
Neil E. Kays, senior product marketing manager at T. Rowe Price, explained that if passive management is like "putting your car on autopilot," then active management is giving the manager "the ability to grab the wheel."
"In the current market environment, having an active manager that can pivot is key," Kays added.
As part of its lineup of active exchange traded funds, T. Rowe Price offers a suite of actively managed equity ETFs, including the T. Rowe Price Blue Chip Growth ETF (TCHP C+), the T. Rowe Price Dividend Growth ETF (TDVG B), the T. Rowe Price Equity Income ETF (TEQI B), the T. Rowe Price Growth Stock ETF (TGRW C), and the T. Rowe Price U.S. Equity Research ETF (TSPA B-).
T. Rowe Price has been in the investing business for over 80 years through conducting field research firsthand with companies, utilizing risk management, and employing a bevy of experienced portfolio managers carrying an average of 22 years of experience.
For more news, information, and analysis, visit our Active ETF Channel.