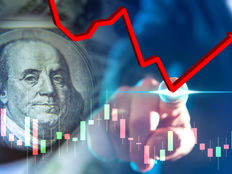 Not surprisingly, it was a volatile week for markets amid what VettaFi Financial Futurist Dave Nadig called "the world's most boring banking crisis." Although investors began trading on Friday fearful that contagion had spread to Deutsche Bank, markets rallied, ending the week on a higher note.
In addition, the Federal Reserve also added to market choppiness this week when it announced it was raising interest rates by 25 basis points. Fed Chair Jerome Powell said in a press conference on Wednesday that "the process of getting inflation back down to 2% has a long way to go and is likely to be bumpy."
Powell added: "Events in the banking system are likely to result in tighter credit conditions."
With investors still skittish about contagion spreading from the banking crisis and the Fed suggesting a rocky road ahead, markets are likely to continue bouncing. That's where active management can come into play.
When things get bumpy in markets, active management can alleviate some of the burden from the investor. Plus, not all active managers are created equal, and only a handful can provide alpha, regardless of market conditions. Active managers with greater resources and greater scope benefit from economies of scale, which can often translate to better returns.
"During times of market uncertainty, advisors can turn to actively managed ETFs that offer security selection benefits as well as liquidity, tax efficiency and ease of use," said Todd Rosenbluth, head of research at VettaFi.
As part of its lineup of active exchange traded funds, T. Rowe Price offers a suite of actively managed equity ETFs, including the T. Rowe Price Blue Chip Growth ETF (TCHP C+), the T. Rowe Price Dividend Growth ETF (TDVG B), the T. Rowe Price Equity Income ETF (TEQI B), the T. Rowe Price Growth Stock ETF (TGRW C), and the T. Rowe Price U.S. Equity Research ETF (TSPA B-).
T. Rowe Price has been in the investing business for over 80 years through conducting field research firsthand with companies, utilizing risk management, and employing a bevy of experienced portfolio managers carrying an average of 22 years of experience.
For more news, information, and analysis, visit our Active ETF Channel.
---
Content continues below advertisement