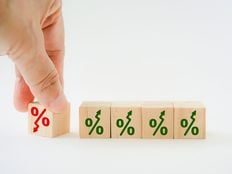 Stocks traded down on Monday as investors gear up for multiple earnings and the Federal Reserve's decision on what to do with interest rates this week. As of Monday afternoon, the Dow Jones Industrial Average dropped 216 points, or roughly 0.6%, while the S&P 500 declined about 1.2% and the Nasdaq Composite fell by about 1.8%.
Investors and analysts are awaiting a few noteworthy events this week. Roughly 20% of companies on the S&P 500 will report their earnings this week, including FAANG stocks Apple, Facebook parent Meta Platforms, Amazon, and Google parent Alphabet. Plus, the Federal Open Market Committee is meeting on Tuesday and Wednesday when the Fed is expected to raise interest rates by 25 basis points.
CNBC quoted U.S. Bank senior investment strategist Tom Hainlin as saying: "You're seeing this push and pull in stock prices between whether the Fed will keep interest rates where they are throughout the year, or whether they'll pivot to cutting interest rates. That's what you're seeing in terms of maybe a little bit more of the intermediate term rise in stock prices"
Added Hainlin: "We would fade that rally because our perspective is the Fed is going to keep interest rates high for some time."
With this "push and pull in stock prices," investors may want a steady hand guiding some of their investments. That's where active management can come into play.
While passive strategies lack the flexibility to adapt to changing market environments, active ETFs can offer the potential to outperform benchmarks and indexes. Plus, active managers with greater resources and greater scope benefit from economies of scale, which can often translate to better returns.
"Active managers have the flexibility to take advantage of market volatility and add to favored positions when prices become more attractive," said Todd Rosenbluth, head of research at VettaFi.
As part of its "lineup of active exchange traded funds":https://www.troweprice.com/financial-intermediary/us/en/investments/etfs.html, T. Rowe Price offers a suite of actively managed equity ETFs, including the (TCHP C+), the (TDVG B), the (TEQI B), the (TGRW C), and the (TSPA B-).
T. Rowe Price has been in the investing business for over 80 years through conducting field research firsthand with companies, utilizing risk management, and employing a bevy of experienced portfolio managers carrying an average of 22 years of experience.
For more news, information, and analysis, visit our Active ETF Channel.