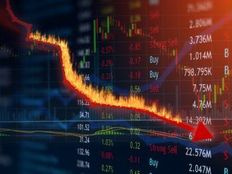 Stocks closed out 2022 experiencing their worst annual losses since 2008. reported that the Dow Jones Industrial Average ended the year down 8.8%, and 10.3% off its 52-week high. Meanwhile, the S&P 500 fell 19.4% for the year, more than 20% down from its record high, and the Nasdaq Composite ended 2022 down 33.1% from where it began in the year.
And stocks rang in the new year by giving up earlier gains, exacerbating fears that a recession is indeed awaiting investors in 2023. The S&P 500 fell 0.92% at the start of trading on Tuesday, while the Dow went down 217 points, or 0.66%, and the Nasdaq dropped 1.29%. In particular, Tesla and Apple got hit pretty hard, with shares of these large-cap firms falling more than 12% and 3%, respectively.
"A recessionary environment in 2023 could further hamper tech stock performance in the new year, as investors' thirst would increase for value-oriented companies and those with higher profit margins, more consistent cash flows, and robust dividend yields," wrote Greg Bassuk, CEO of AXS Investments.
Investors are awaiting the results of the Job Openings and Labor Turnover Survey and the minutes of the Federal Open Market Committee's policy meeting, both of which are set to come out on Wednesday. They're also awaiting the December jobs report on Friday, which could influence the Fed's decision on what to do with interest rates going forward.
Yet there may be some light at the end of the tunnel. U.S. stock markets tend to rally after down years. For example, the S&P 500 has historically rebounded by 15% in years after losing more than 1%. If 2022 has shown us anything, it's that it's best to be proactive with one's investments rather than sit back and simply hope for the best. That's where active management can come in handy.
While passive strategies lack the flexibility to adapt to changing market environments, active ETFs can offer the potential to outperform benchmarks and indexes. Plus, active managers with greater resources and greater scope benefit from economies of scale, which can often translate to better returns.
"Active managers can come into 2023 with fresh eyes to identify shares of companies with strong fundamentals positioned to benefit from the new environment," said Todd Rosenbluth, head of research at VettaFi.
As part of its , T. Rowe Price offers a suite of actively managed equity ETFs, including the ), the , the , and the .
T. Rowe Price has been in the investing business for over 80 years through conducting field research firsthand with companies, utilizing risk management, and employing a bevy of experienced portfolio managers carrying an average of 22 years of experience.
For more news, information, and strategy, visit our .