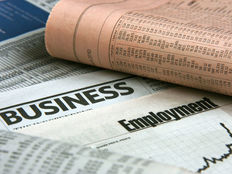 Following a huge rally, the Dow Jones Industrial Average dropped more than 100 points on Thursday as investors await Friday's jobs report. The closely watched data coming Friday could determine the pace at which the Federal Reserve will raise interest rates going forward.
After a 737-point gain on Wednesday, the index dropped 187 points or 0.5%. The Dow rallied on Wednesday following news that a key inflation measure that the Fed follows rose less than expected, and after Fed Chair Jerome Powell said the central bank is in a position to reduce the size of rate hikes as soon as next month. Now, investors are awaiting data on non-farm payrolls, the unemployment rate, and hourly wages Friday for insight into the labor market.
"It looks more technical and just looks like an exhale from yesterday's big push," David Grecsek, managing director of investment strategy and research at Aspiriant, told CNBC.
The U.S. added 200,000 jobs in November, down from 261,000 in the prior month, according to economists polled by Dow Jones.
"A big number will spook the markets further that the Fed's not going to be able to slow down their pace of rate hikes," Megan Horneman, chief investing officer at Verdence Capital Advisors, told the media outlet.
With high inflation, quantitative tightening, and market volatility continuing to batter stocks, active management could come in handy. While passive strategies lack the flexibility to adapt to changing market environments, active ETFs can offer the potential to outperform benchmarks and indexes. Plus, active managers with greater resources and greater scope benefit from economies of scale, which can often translate to better returns.
As part of its lineup of active exchange traded funds, T. Rowe Price offers a suite of actively managed equity ETFs, including the T. Rowe Price Blue Chip Growth ETF (TCHP C+), the T. Rowe Price Dividend Growth ETF (TDVG B), the T. Rowe Price Equity Income ETF (TEQI B), the T. Rowe Price Growth Stock ETF (TGRW C), and the T. Rowe Price US Equity Research ETF (TSPA B-).
Neil E. Kays, senior product marketing manager at T. Rowe Price, explained that if passive management is like "putting your car on autopilot," then active management is giving the manager "the ability to grab the wheel."
"In the current market environment, having an active manager that can pivot is key," Kays added.
T. Rowe Price has been in the investing business for over 80 years through conducting field research firsthand with companies, utilizing risk management, and employing a bevy of experienced portfolio managers carrying an average of 22 years of experience.
For more news, information, and strategy, visit our Active ETF Channel / VettaFi| ETFDB