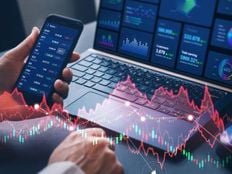 Monetary policymakers are working under the assumption that the current growth momentum and strong labor markets in Europe and the U.S. may shield economies from a recession in 2023. There's a weak relationship between economic momentum and the severity of an ensuing economic downturn, according to .
Growth momentum and labor markets have been strong in Europe and the U.S. This has led the average Federal Open Market Committee members to forecast a growth rebound and a slightly rising unemployment rate in 2023 despite a significant tightening in monetary conditions. The European Central Bank's current base‑case scenario also doesn't anticipate a 2023 recession for similar reasons.
After examining whether growth momentum is correlated with the subsequent depth of the recession, T. Rowe Price found these correlations to be very low, indicating no statistically significant relationship between growth momentum and the depth of a subsequent recession.
T. Rowe Price also found that during the majority of previous recessions, the level of real GDP remained permanently below the level that would have been achieved had the recession not occurred. In other words, most previous recoveries had permanent effects on their output compared with before the recession.
"At present, monetary policymakers in both the eurozone and the U.S. rely on the narrative that strong growth momentum and a robust labor market will help their economies avoid a recession and achieve a soft landing, respectively," according to the paper. "However, historical analysis suggests that current economic strength is not a reliable guide to the future. There is, therefore, a significant risk that monetary policymakers could still change their minds concerning their main economic narrative."
If central banks change from this narrative and downgrade growth expectations, risk assets will likely underperform, and the yield curve can be expected to flatten. Such an environment beset with low returns and prolonged uncertainty can make active management appealing.
Unlike passive strategies that lack the flexibility to adapt to changing market environments, active ETFs can offer the potential to outperform benchmarks and indexes. Plus, active managers with greater resources and greater scope may benefit from economies of scale, which can often translate to better returns.
As part of its , T. Rowe Price offers a suite of actively managed equity ETFs, including the ), the , the , and the .
T. Rowe Price has been in the investing business for over 80 years through conducting field research firsthand with companies, utilizing risk management, and employing a bevy of experienced portfolio managers carrying an average of 22 years of experience.
For more news, information, and strategy, visit our .