Growth stocks appear to be making a comeback after value became the new hotness during a volatile 2022.
For years after the global financial crisis, growth stocks drove the bull market. But last year, the Fed's plan to fight record-high inflation by raising interest rates rattled markets, causing investors to allocate capital to companies known for their ability to generate steady cash flow.
So, as high inflation, aggressive monetary tightening from the Federal Reserve, and the war in Ukraine drove extended market volatility, value stocks gained a considerable amount of attention while growth stocks floundered in 2022. In 2022, the Russell 3000 Value Index outpaced the Russell 3000 Growth by nearly 20 percentage points.
But now that inflation is slowing, and investors are counting on the Fed to ease up on its pace of interest rate increases, growth stocks are rallying. The Russell 3000 Growth rose by more than 10% year-to-date as of February 15, while the Russell 3000 Value only climbed by 4.5% during the same time period.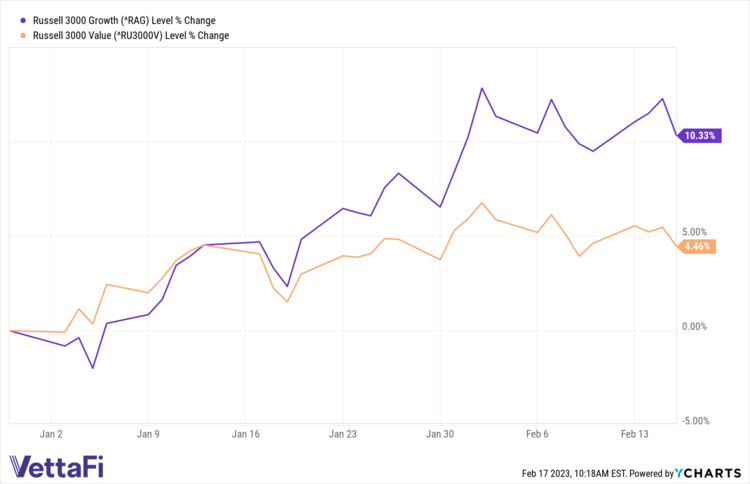 "Now investors are starting to recognize that, 'Hey, there are growth companies out there that are trading at a much more reasonable price,'" Craig Sarembock, wealth advisor and principal at Bartlett Wealth Management, told the Wall Street Journal.
Investors wanting to take advantage of this rally in growth stocks may want to consider the actively managed T. Rowe Price Growth Stock ETF (TGRW C). TGRW invests in growth stocks with one or more of the following characteristics: strong cash flow and above-average earnings growth; the ability to sustain earnings momentum in economic downturns; and occupation of a niche in the economy and the ability to expand during times of slow economic growth. Top holdings in the ETF as of December 31 include Microsoft Software, Apple, and Google parent Alphabet.
"In managing the fund, we are always on the lookout for companies that we believe are responding to the difficult environment in ways that can create value over a longer time frame," wrote Joseph Fath, portfolio manager for TGRW, in a white paper issued by T. Rowe Price.
TGRW carries an expense ratio of 0.52%.
For more news, information, and analysis, visit the Active ETF Channel.
---
Content continues below advertisement