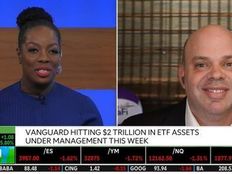 Actively managed ETFs have started 2023 well, seeing 40% of total ETF flows this year compared to less than 14% last year. The actively managed class of ETFs was also the focus of a conversation between VettaFi's head of research Todd Rosenbluth and TD Ameritrade host Renita Young on "The Watch List" on Tuesday.
Speaking to Young, Rosenbluth first explained that while passives are still growing with Vanguard hitting $2 trillion in AUM Monday, 2023 has been marked by greater adoption of actively managed ETFs.
"What we're seeing when we talk to the VettaFi advisor base who we speak with on a regular basis, they're increasingly interested in actively managed ETFs," Rosenbluth explained, saying that 87% of advisors are either somewhat or very likely to be investing in an active ETF in 2023.
Advisors have looked at broader market strategies this year in active, Rosenbluth said, underlining the success of the JPMorgan Equity Premium Income ETF (JEPI A), which has added $4 billion in the first two months of the year compared to $13 billion total last year with its slightly more defensive slant.
Rosenbluth also underscored the success of Capital Group, which just entered the market a year ago, and its CGGP, a more growth-oriented, tech sector-based strategy, as well as ongoing inflows taken in by American Century Investments' Avantis Investors ETF suite.
Answering a question from Young regarding whether interest in active ETFs has been boosted by rate-based uncertainty, Rosenbluth noted that the change in sentiment this year has certainly played a role.
"This is a really difficult marketplace for advisors on their own and for investors on their own to navigate," Rosenbluth said. "So they're turning to the stock picking or the asset allocation macro calls that an active bond manager is providing."
To close, Rosenbluth also spoke to the greater adoption and interest in small-cap ETFs detected in VettaFi's advisor data, with small-caps rising to the top in a survey of advisors' preferred investment styles right now. The iShares Core S&P Small-Cap ETF (IJR A-) and the Vanguard Small Cap ETF (VB A) were two standout small-caps to watch, he added, charging six and five basis points to track the S&P SmallCap 600 Index and the CRSP US Small Cap Index, respectively.
For more news, information, and analysis, visit our Active ETF Channel.