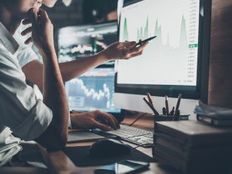 The current economic landscape supports value investing in both the short- and long-term. According to a white paper published by T. Rowe Price, valuations for value stocks, on average, are more attractive than growth stocks, even when considering growth's outsized outperformance in 2022.
"With value offering both a healthy representation to defensive areas, such as utilities and other traditional industries with strong pricing power, but also to economically sensitive areas like industrials, we believe investors are less likely to be left behind if markets move in a particular direction," wrote Sebastien Mallet, a portfolio manager in the equity division at T. Rowe Price.
But that doesn't mean an index fund that tracks value stocks will automatically generate outsized returns. For one thing, Mallet notes that the opportunities in value T. Rowe Price is seeing are "more subdued" than the opportunities the manager found in previous years.
Plus, as persistent inflation, sluggish growth, and a possible recession put pressure on margins, we may see broad earnings downgrades later in the year. So, in an environment where diversification alone won't generate alpha for an investor's portfolio, active management may help. A skilled active manager can find returns in challenging markets.
See more: Fed Expects "Mild Recession" This Year
For investors looking to take an active approach to value investing, the T. Rowe Price Equity Income ETF (TEQI B) may be worth looking into. Launched in August 2020, TEQI is a semi-transparent fund seeking a high level of dividend income and long-term capital growth by investing "at least 80% of its net assets in common stocks, with an emphasis on large-capitalization stocks that have a strong track record of paying dividends or that are believed to be undervalued," according to T. Rowe Price.
The fund typically includes a broadly diversified portfolio of between 100 and 125 names within the U.S. large‑cap universe trading below T. Rowe Price's assessment of intrinsic value without excessive exposure to any one stock, industry, or sector. Because the fund is actively managed, risk is managed through diversification and rigorous fundamental research at the individual company level.
TEQI is part of a lineup of active ETFs that T. Rowe Price offers. T. Rowe Price has been in the investing business for over 80 years and conducts field research firsthand with companies, utilizing risk management, and employing a bevy of experienced portfolio managers carrying an average of 22 years of experience.
"Active ETFs are really starting to grow and become a more prominent part of the market," said Tim Coyne, head of ETFs at T. Rowe Price.
For more news, information, and analysis, visit our Active ETF Channel.
---
Content continues below advertisement