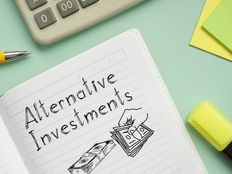 With Treasury yields elevated and likely to remain that way as the Federal Reserve mulls more aggressive rate tightening in a bid to quash inflation, alts are increasingly a priority for a broader swath of advisors and investors.
Alternatives with income-generating potential are all the more relevant in the current market environment because as tempting as high bond yields may be, those yields arrived there due to declining prices. Plus, as highlighted by last year's simultaneous erosion in both bond and equity prices, the diversification properties of fixed income are being called into question.
Conversely, the diversification and reduced correlation benefits offered by alternative asset classes are rarely questioned, and with bond yields still high, the "alts" segment is all the more important.
"Yields are back, but bonds may struggle to deliver the level of diversification that they once provided as inflation and policy uncertainty persist. This brings into focus the role of alternative strategies as an additional source of diversification and returns in portfolios. Alternatives can capture the same yield opportunities found in traditional fixed income, while unlocking new return streams and providing the ballast that's needed in portfolios today," according to BlackRock research.
Alternative assets serve other ends beyond needed diversification within the confines of a standard 60/40 portfolio. By introducing alts into a 60/40 portfolio, thereby reducing the 60, the 40, or both, advisors and investors can still garner impressive long-term returns while reducing correlations to widely followed equity indexes.
"Higher rates can influence security dispersion, or the divergence between the best and worst performing assets. For example, higher rates can increase the gap in performance between highly levered companies and those with less debt on the balance sheet. Alternatives can capture these cross-sectional opportunities using a long/short framework3 that goes long companies who are expected to outperform and short companies who are expected to underperform," added BlackRock.
The reduced correlations and unique income streams offered by alts could be all the more valuable to investors if a recession arrives in earnest later this year.
"As recession risks grow, a rapid shift back to a deeply negative stock-bond correlation is unlikely which could create ongoing challenges for the 60/40 portfolio. A true alternative diversifier can seek to provide strong risk-adjusted returns along with the added source of diversification that's needed to weather a more volatile macro and market regime," concluded BlackRock.
For more news, information, and analysis, visit the Alternatives Channel.