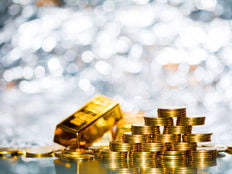 Gold has a reputation as an inflation-fighting and portfolio-diversifying asset. Therefore, many investors opt to embrace gold ETFs from a long-term point of view.
That's wise because like any other asset class, gold has its up years and its forgettable ones. Still, over the long haul, it's been a solid performer. And as is the case when selecting any other ETF as a buy-and-hold stake, fees are central to the gold ETF selection process.
The largest gold-backed ETF by assets is the (GLD A-). Next up is the (IAU A-). GLD and IAU are also the two oldest US-listed gold ETFs, but they're not the cheapest. Actually, they're the priciest as measured by annual expense ratios.
"GLD has topped the list since its inception. IShares Gold Trust IAU launched a couple of months after GLD and holds firm control over second place among gold ETFs by AUM. But being the second gold ETF to market has kept it playing catch-up to GLD for over 18 years," noted Morningstar analyst Bryan Armour.
Remember 'Vanguard Effect' with Gold ETFs
A cheap ETF doesn't necessarily mean a "good ETF" in terms of performance. There are myriad examples of high expense ratio funds outpacing cheaper equivalents. However, there's no denying that lower fees can work in favor of buy-and-hold investors, particularly with straight-forward asset classes like gold.
Call it the "Vanguard effect." Although Vanguard doesn't issue a gold-backed ETF, its reputation for low costs is an obvious reason why it's one the largest ETF issuers in the world.
On a related note, a prominent theme with annual ETF flows is that those with expense ratios of 0.10% and below lead, the second leadership is usually comprised of those ETFs with yearly fees of 0.10% to 0.20% and so on.
This line of thinking is relevant when evaluating gold ETFs. When it comes to low-cost funds in this category, that conversation is largely dominated by GLD and IAU offshoots the (GLDM ) and the (IAUM A-). GLDM and IAUM have annual fees of 0.10% and 0.09%, respectively. Proving that those low costs are meaningful, IAUM and GLDM are the two best-performing gold ETFs over the past year.
"Investors can easily boost returns by choosing low-fee options. For the 12 months through April 2023, investors returned 3.72% before fees for each ETF (the lone exception being iShares Gold Trust Micro IAUM, which earned 3.75%). When holding these ETFs, the one with the lowest fee will win in the long run," concluded Armour.
For more news, information, and analysis, visit the Alternatives Channel.
---
Content continues below advertisement