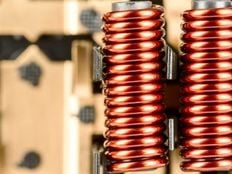 Electric vehicle sales are increasing around the world, and the good news for investors that think they've missed the boom is that electric vehicles still have a long way to go to topple internal combustion engine counterparts, implying ample room for long-term growth.
This also implies that demand for commodities essential in the EV production process will increase — a potential positive at a time when more advisors and investors are evaluating alternative asset classes. As is widely known, copper is a major component in the production of EVs, and the reason is simple: Only gold and silver offer better connectivity than the red metal, but copper is less expensive than the other two.
"Copper is almost equivalent to silver in conductivity. Within the theme of electrification, copper is the most important metal when considering all renewable energy applications," according to S&P Dow Jones Indices.
The firm's S&P GSCI Electric Vehicle Metals Index is a benchmark to pay attention to as a commodities-based play on EV expansion. Designed "to have the flexibility to respond to changes in EV technology and the adoption of new metals futures contracts," the index is production-weighted and rolls futures contracts on a monthly basis.
The index's status as a production-weighted offering is relevant because that implies its composition can change over time as demand for specific metals integral in the output of EVs increases.
"Cobalt and lithium will play a crucial role, but newer battery chemistries heavier in nickel and iron ore are being tested and could win out in the long term. The S&P GSCI Electric Vehicle Metals Index is designed to adjust over time as the overall EV metals market adjusts with the changing world," added S&P Dow Jones.
Currently, the index features exposure to five commodities. In order of weight, those are nickel, copper, aluminum, cobalt, and iron ore. Underscoring the current importance of nickel and copper in the EV production process, those industrial metals combine for over 60% of the benchmark's weight. Aluminum and cobalt combine for about a third of the roster.
Market participants cannot invest directly in any index, but advisors and investors wanting exposure to the S&P GSCI Electric Vehicle Metals Index have an ally in the form of the (EVMT ).
EVMT debuted last April and, as its name implies, offers investors the benefit of not having to deal with the pesky K-1 tax form. More importantly, the exchange traded fund represents an avenue for investors to participate in the commodities side of the EV equation without having to isolate which commodities are relevant and when those assets will generate upside.
For more news, information, and analysis, visit the Alternatives Channel.