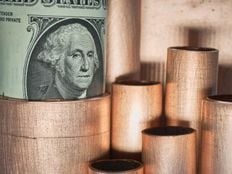 In what could prove to be good news for the global economy, copper prices are flirting with all-time highs, and some analysts believe the industrial metal has more upside in store.
Colloquially referred to as "Dr. Copper" due to its reputation for being an economic tell, the red metal could face tight supplies this year, potentially stoking bullish action. Recent data suggest that both professional and retail traders believe that copper will be one of this year's best-performing commodities.
"A total of 45% of retail investors and 36% of professional investors see copper as the best-performing commodity asset this year, compared to 26% of professional and 21% of retail investors who picked crude oil as most likely to be the top commodity performer in 2023," reported Tsvetana Paraskova for OilPrice.com.
In a December report, Nicholas Snowdon, metals strategist at Goldman Sachs, noted that copper could be in store for record prices this year, owing in part to China dropping its zero-COVID policy as well as long-term demand for the red metal created by the renewable energy industry.
"The sequential increase in policy targets and commitments to green transition, alongside a minimal supply response so far… have resulted in earlier and larger open-ended deficit conditions that essentially are already here, not beginning at some point in the future," wrote Snowdon.
The specter of a copper shortage is looming this year. Global mining giant Glencore recently confirmed as much, noting that elevated demand from producers of renewable energy products could keep copper supplies strained through the end of this decade.
"In the latest reporting week to January 17, copper, one of the best-performing commodities this month, attracted more bullish positions, and the net long position—the difference between bullish and bearish bets—jumped to a nine-month high, Ole Hansen, Head of Commodity Strategy at Saxo Bank, said on Monday," according to OilPrice.com.
Investors searching for an equity-based exchange traded fund that provides access to copper may want to evaluate the (COPX B+). The $2.01 billion COPX holds 48 stocks and follows the Solactive Global Copper Miners Total Return Index.
It's a small sample size, but COPX is reflective of the aforementioned bullish expectations for copper prices, as the Global X ETF is higher by 16.48% year-to-date, extending a gain of 47.71% over the past six months.
For more news, information, and analysis, visit the Alternatives Channel.