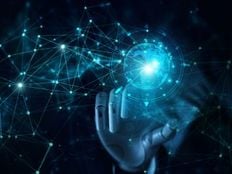 Artificial Intelligence Channel
About This AI Episode
Artificial Intelligence has been a category-killer among investment themes in the past year. The impact of AI on the wealth management profession has been profound. It's gone from gravity-defying value creation on the stock market to optimizing the day-to-day operations of an advisory practice.
Every participant in financial services, in companies large or small, needs to embrace and integrate this powerful technology into its future, or risk falling behind.
My guest today, Valery Talma, will share his perspective on the state of the art in artificial intelligence investment management and how advisors can serve their clients better with AI-powered strategies.
About Our Guest
As the president and chief revenue officer at QueensField AI Technologies, Valery's mission is to empower investors with cutting-edge tools and insights that enhance their performance and decision-making.
Valery leads the development, marketing, and sales of highly sophisticated artificial intelligence and quantitative investment products and services to RIAs, asset managers, TAMPs, and investment banks.
Valery has over 30 years of experience in the financial industry. He has a proven track record of developing and implementing innovative and complex solutions and building C-level relationships across diverse markets and sectors.
He has contributed to the MIT Sloan School edX course on artificial intelligence and quant finance. Valery has also completed several courses on computer sciences and AI from Stanford University.
During his career in international investment banking and capital markets, he executed over $70 billion worth of transactions in venture capital, private equity, mergers and acquisitions, equity and debt capital markets. Valery has specialized in finance, working with government, corporate, and private clients in over 20 countries.
He is a former French Navy officer and a veteran of the NATO campaign to liberate Kuwait.
---
Content continues below advertisement
Show Notes