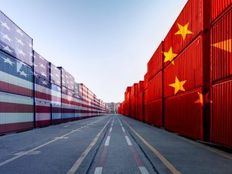 China's rollback of its zero-COVID policy at the end of 2022 was hailed as a victory, though investments have been slow to roll back into Chinese-centric funds, likely due to the economic impacts of the surge in COVID-related hospitalizations and deaths country-wide. Brendan Ahern, CIO of KraneShares, recently appeared on the to discuss investing in China and two China ETFs positioned to capture economic recovery.
To best understand the growth that has happened in China investing in the last decade, Ahern explained that half of the MSCI China Index 10 years ago was comprised of financial and energy companies, a breakdown that was not representative of China's economy but where foreign investors felt most comfortable.
"We then went on a great decade of growth investing and yet MSCI China only had two percent in technology," Ahern said. "That two percent of MSCI China technology actually went up nearly 2,000%, almost three times better than the S&P 500. Part of what we're trying to do at KraneShares is give people access to the segments of China that are growing very rapidly, such as we do with KWEB."
Two China ETFs to Capture China's Recovery
The KraneShares CSI China Internet ETF (KWEB B) tracks the CSI Overseas China Internet Index and measures the performance of publicly traded companies outside of Mainland China that operate within China's internet and internet-related sectors. The fund includes companies that develop and market internet software and services, provide retail or commercial services via the internet, develop and market mobile software, and manufacture entertainment and educational software for home use.
KWEB's focus is "more reflective of what foreign investors think about China," as it invests in companies outside Mainland China that are easily accessible for investors living outside of China via the Hong Kong Stock Exchange and Hang Seng Index.
"You can contrast that with the Shanghai [Stock Exchange] and the Shenzhen [Stock Exchange] which is 95% owned by investors in China," Ahern explained. "What the Chinese think about China and what foreigners think about China can be two really, really different things and they're not synchronized. They move very differently."
The KraneShares Bosera MSCI China A Share ETF (KBA A-) offers foreign investors access to Mainland China's markets and invests in Chinese A shares across multiple sectors — specifically those from the MSCI China A 50 Connect Index. The fund seeks to capture 50 large-cap companies that have the most liquidity and are listed on the Stock Connect, while also offering risk management through the futures contracts for eligible A shares listed on the Stock Connect. The index utilizes a balanced sector weight methodology to give exposure to the breadth of the Chinese economy.
Both funds are positioned to capitalize on China's economic recovery in the wake of COVID-19 policy rollbacks and offer different exposures and strategies for investors looking to play technology and growth recovery via KWEB or broad economic recovery via KBA.
---
Content continues below advertisement