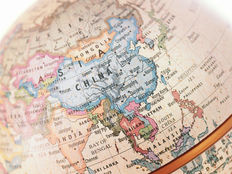 China continues to rebound domestically from the lifting of COVID lockdowns, and looks to be a shining star for performance in a challenging global economic year. With most investors underweight China and Asia, the time is now to gain exposure to the growth of China's domestic consumer through funds like the (KBUY B-).
"Emerging and developing Asia remains the best hope and chief driver of global growth. Combined, they would contribute 75 percent of global growth," said UN Secretary-General Ban Ki-moon recently, reported by Brendan Ahern, CIO of KraneShares, on the China Last Night blog.
China's most recent PMI data from March reflects the slowing in global demand but the increase in domestic demand: manufacturing PMI was 51.9, down from 52.6 in February, while non-manufacturing PMI was 58.2 compared to February's 56.3. The vast majority of China's manufacturing is geared towards exports and global demand, which fell in March with new export orders down to 50 from 52.4 in February.
Domestically, KraneShares anticipates that each quarter will show improving performance for China as consumer confidence increases and China continues to apply pro-domestic consumption policies. Officials continue to issue supportive rhetoric, and in China, rhetoric carries weight.
"In the first two months of this year, the Chinese economy showed an encouraging momentum of rebound," Premier Li said in a keynote at the Boao Forum, reported Ahern. China's government will continue to "…build on the momentum of recovery and work for sustained and overall improvement in the economic performance."
Investing in China's Consumer Growth with KBUY
The (KBUY B-) is positioned to benefit from the recovery of China's consumers this year, with positive policy support likely to encourage economic gains. The fund is up 4.69% YTD as of 04/05/23 and continues to trade above its 200-day Simple Moving Average, a buy signal for trend followers.
---
Content continues below advertisement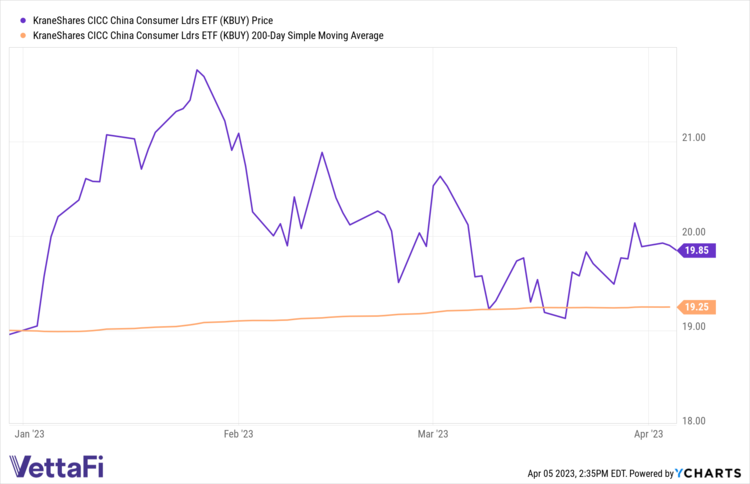 KBUY tracks the CICC China Consumer Leaders Index, which invests in the publicly traded, China-based companies that make up the consumer industries in the country. These include apparel and clothing, hotels, restaurants, home appliances, food and beverage, and duty-free goods.
KBUY's index selects the top 30 companies ranked by their long-term operating income and cash flow, market cap, long-term return on equity, and long-term gross profit. These companies are included in the index and weighted by free-float market cap, with no singular company representing more than 15% of the underlying index.
KBUY carries an expense ratio of 0.68%.
For more news, information, and analysis, visit the China Insights Channel.