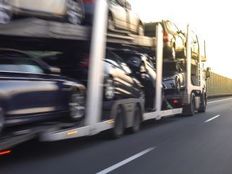 It's not fully autonomous driving, but Chinese electric vehicle manufacturers are making strides when it comes to assisted drivers.
That's seen as a vital step for those companies when it comes to earning market share in one of the world's most competitive electric vehicle markets. Additionally, those advances could create positive implications for select holdings of exchange traded funds such as the (KARS C).
KARS isn't a dedicated China ETF, but it is home to several China-based EV manufacturers as well as other auto giants that sell such vehicles in the country, including (TSLA) and Volkswagen. As was recently reported, Chinese EV juggernaut BYD, a KARS component, recently took the crown as the top EV seller in China ahead of Volkswagen, also a KARS holding.
While it's not clear how in-demand driver-assisted technology is among Chinese car buyers, it is seen as a prelude to fully autonomous capabilities, and some industry executives view the offering as essential to winning market share in China. Harnessing assisted driving tech could pay for original equipment manufacturers over the long term.
"McKinsey estimates assisted and fully autonomous driving systems in passenger cars could generate $300 billion to $400 billion in global revenue by 2035. China is the world's largest car market," reported Evelyn Cheng for CNBC.
KARS member firms Li Auto and Xpeng are among the Chinese EV makers that recently boasted of assisted driving strides. In the case of Xpeng, that company is looking to roll out that tech in new cars across China after previously featuring in just two cities.
"The tech claims to require drivers to do little more than keeping their hands on the wheel, while the vehicle travels to a destination in the city on its own, including stopping at traffic lights," according to CNBC.
While some market observers view the assisted driving advances notched by KARS China-based holdings as modest, those strides are relevant nonetheless because some foreign competitors selling EVs in China don't offer related amenities and because EV companies operating in the world's second-largest economy have largely focused on pricing as an avenue for luring buyers.
Owing to the tech-savvy reputation of many Chinese consumers, assisted driving capabilities could be a point of attraction for car buyers, which is potentially of benefit for some KARS holdings. KARS, which debuted in January 2018, has $169.46 million in assets under management.
For more news, information, and analysis, visit the China Insights Channel.