In the wake of the failure of two U.S. regional banks, there have been macro shifts happening in markets as investors flee to the safety of Treasuries while the Fed continues rate hikes and sticky inflation persists. KFA Funds, the sub-advisors for the (KMLM C), hosted a recent webinar to discuss these macro shifts and the role that managed futures and KMLM can play in portfolios in the current environment and looking ahead.
Managed futures strategies had a phenomenal year last year: KMLM offered total returns of 30.37% in 2022. Gerald Prior III, COO and senior PM at KFA Funds, cautioned against the rhetoric of viewing the strategy as an insurance policy that hedges against loss and pays back when losses accord. Instead, managed futures are "more of a diversifier that historically has done well in periods of stress but it doesn't have that same cost structure that an insurance premium does."
What March's Bond Reversal Meant for KMLM
Market volatility in March on the heels of bank failure has proven to be challenging for most managed futures strategies because of their positioning in bonds, which is problematic at a time when trends reversed in the bond markets and the path of the Fed's interest rate hikes have become much less certain.
"We have a little bit more certainty on what the Fed is doing today but two weeks ago we went from expectations of a 50 basis point hike to zero to 25 with a lot of cuts being added in the rest of this year," Prior explained.
The short trade in bonds in the last year has been a significant contributor to managed futures outperformance, and that sharp trend reversal has been a pain point for managed futures in March. KMLM only has exposure to the 10-year Treasury note, and also has exposures to 10-year euro bonds, both of which saw price spikes in the last week as yields dropped sharply, but not as sharply as the spikes in the two-year, which other managed futures strategies had exposure to.
This exposure differential created a performance dispersion in March amongst managed futures funds, with KMLM performing better than many others.
---
Content continues below advertisement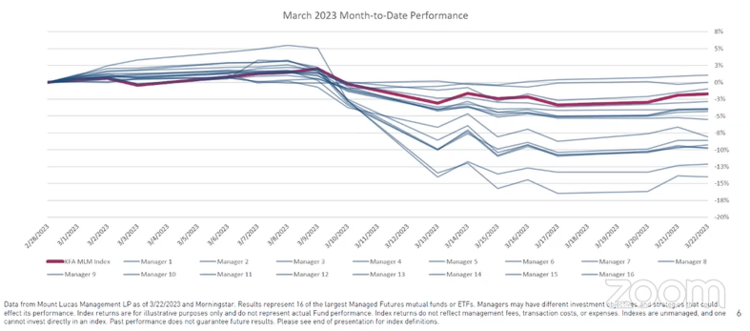 Looking Long-Term With Managed Futures
Because of their ability to generate returns on both long and short positions, managed futures "provides this adaptable framework where you've got more tools in your toolbox that you can use to help diversify the equity market," explained David Aspell, PM at Mount Lucas Management.
Managed futures within a portfolio provide adaptability, according to Aspell, particularly during times of market crises. Aspell cautioned against the pattern of some investors only buying into the space when it is outperforming and then selling out as a crisis passes, since they miss many of the diversification opportunities that managed futures can provide. Instead, investors should consider managed futures as part of their core portfolios and rebalance around them as necessary.
Trend-following strategies mean that sometimes funds get caught in the wrong position when a crisis strikes, such as the current banking turmoil that has reverberated through markets, but their ability to recover can be faster than many other allocations.
"One thing about trend following that is true is the second word in that title, 'following'; it can sometimes enter a crisis on the right foot and it can sometimes enter a crisis on the wrong foot but get to the right place as that crisis extends over a longer period of time," Prior said.
Investing in Managed Futures With KMLM
The (KMLM C) from KFAFunds, a KraneShares company, invests in futures contracts in commodities, currencies, and global bond markets.
KMLM's benchmark is the KFA MLM Index, which uses a trend-following methodology and is a modified version of the MLM Index. The index weights the three different futures contract types by their relative historical volatility, and within each type of futures contract, the underlying markets are equal dollar-weighted.
The index and KMLM have demonstrated a negative correlation to both equities and bonds in bull and bear markets. Investing in managed futures offers diversification for portfolios by their ability to invest long and short on asset classes, and carrying them within a portfolio can potentially help mitigate losses during market volatility and sinking prices.
Futures contracts in the index include 11 commodities, six currencies, and five global bond markets, and will be rolled forward on a market-by-market basis as they near expiration.
The index evaluates the trading signals of markets every day, rebalances on the first day of each month, invests in securities with maturities of up to 12 months, and expects to invest in ETFs to gain exposure to debt instruments.
KMLM carries an expense ratio of 0.92%.
For more news, information, and analysis, visit the China Insights Channel.