That said, the country's economic outlook has been uneven for much of the year. The nation's beleaguered and debt-laden quasi-governmental real estate companies still loom over the firm's outlook. However, internet firms and consumer spending opportunities can still appeal in a fund like KWEB.
KWEB's China ETF Buy Signal
The KraneShares CSI China Internet ETF (KWEB B) tracks the CSI Overseas China Internet index. The strategy, which hit its 10-year anniversary this summer, holds about $5.7 billion in total AUM. So why look to this specific China ETF right now?
For starters, it is sending a key buy signal as of Monday, November 20. KWEB's price, which had already risen above its 50-day simple moving average, rose above its 200-day SMA as well. The ETF's price of $28.68 rose above the $28.4 200-day SMA.
---
Content continues below advertisement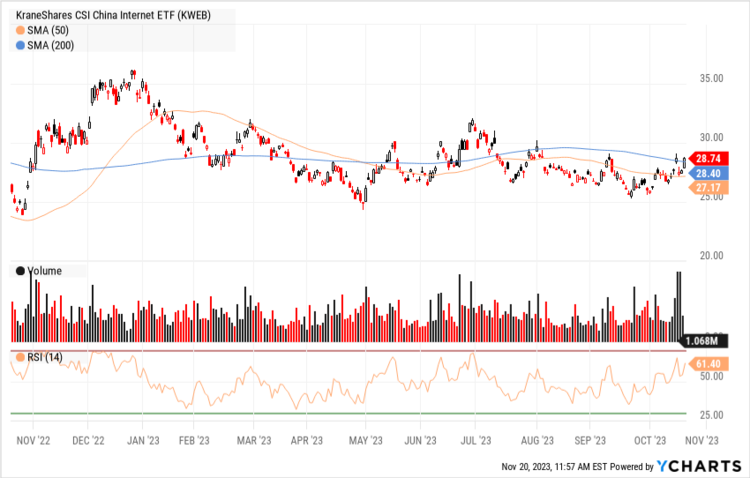 That might invite investors and advisors to take a look at the area in which KWEB invests. The fund offers "pure-play exposure" to Chinese software and information tech stocks like (TCEHY) and .
Those and other firms in KWEB would benefit from Chinese consumers shifting from a "saving" mentality to a spending one. Should the Chinese economic outlook add a bit more optimism or good news, or see further stimulus from the government, that consumer spending could be released.
KWEB charges a 69 basis point fee to invest in that area. Though China hasn't stood out too much this year, the fund has outperformed China categories in the ETF Database Category and FactSet Segment averages. Over one year, the strategy has outperformed the former by about 6% and the latter by about 1%. Taken together, with its new tech signal per YCharts, it may be worth revisiting the China ETF.
For more news, information, and analysis, visit the China Insights Channel.