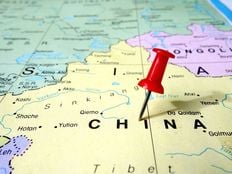 This week's top-performing ETF returns include five China-focused strategies, a far cry from the panic that China would be uninvestable following the Fall's Chinese Communist Party Congress. Led by the top ETF based on one-week returns, the Global X MSCI China Real Estate ETF (CHIR ) at 18.66%, the China-focused strategies have flouted concerns not only about geopolitics but also the nation's slowly loosening "Zero COVID" rules and a resulting spread of the virus there.
| Ticker | Name | 1 Week Return |
| --- | --- | --- |
| (CHIR ) | Global X MSCI China Real Estate ETF | 18.66% |
| (WGMI ) | Valkyrie Bitcoin Miners ETF | 16.55% |
| (KWEB ) | KraneShares CSI China Internet ETF | 14.47% |
| (PGJ ) | Invesco Golden Dragon China ETF | 13.79% |
| (SGDJ ) | Sprott Junior Gold Miners ETF | 13.43% |
| (CHNA ) | Loncar China BioPharma ETF | 12.84% |
| (CHIC ) | Global X MSCI China Communication Services ETF | 12.48% |
The ETFs could be benefitting from a few different trends impacting China right now; the aforementioned reopening may boost the prospect of Chinese consumer spending amid public life reigniting more broadly. At the same time, the government in China has been proactive in trying to meet its growth targets after a disappointing 2022, and supporting .
CHIR certainly focuses on real estate, charging 66 basis points to track its index from MSCI and returning a potent 21% over three months. But real estate isn't the only area helping this week's top-performing ETFs – the perennial China ETF challenger KraneShares CSI China Internet ETF (KWEB B) returned 14.5% last week, speaking to the consumer spending angle, while its fellow indexed strategy the Invesco Golden Dragon China ETF (PGJ B) returned 13.8% from its broad China economy approach.
Global X rounds off the list with both the Global X MSCI China Communications Services ETF (CHIC A-) at 12.5% for the week as well as the Global X Emerging Markets Internet & E-commerce ETF (EWEB C) at 11.5%. Standing out a bit among the likes of Invesco, KraneShares, and Global X is the passively-managed Loncar China BioPharma ETF (CHNA B-) with a 12.8% return, as well, despite its relatively small AUM Compared to the aforementioned China strats.
Whether China-focused strategies can keep up their pace remains to be seen, but with the domestic U.S. market facing the risk of a recession as well as lingering inflation, sector-based China ETFs may prove appealing for certain investors if they believe the nation can deliver on the prospect of a bounce back 2023.