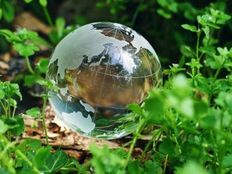 China continues to push towards its aggressive goals of carbon neutrality. That should translate into strength for thematic exchange-traded funds focusing on environmental, social, and governance (ESG) with country-specific exposure to China.
In an effort to push towards its carbon neutral goals, China is planning on developing regulatory measures that include the creation of ESG-related disclosures. The country is already working with the appropriate powers that be to bring these regulatory measures to life.
"China is planning to make ESG disclosures compulsory as part of efforts to shift to a lower-carbon economy, according to people familiar with the matter," Bloomberg reported.
"Regulators are working with advisory bodies and rating agencies to formulate a framework for mandatory environmental, social and governance-related disclosures for companies listed in China, the people said, asking not to be identified because the matter is private," the report added.
ESG Exposure With a Nod to China
More ESG-specific exposure to China, consider the (KESG ), which invests in the leading ESG companies within China; because of its sector diversification, it has been able to mitigate much of the regulatory risk within China in the past year. The fund invests in a number of solar and renewable energy companies driving change within China.
KESG seeks to track the MSCI China ESG Leaders 10/40 Index, which is an index that is free float-adjusted and market cap weighted. Taking a closer look at the index, it includes companies with high ESG ratings compared to their peers within their industries.
To add to its diversification feature, the index includes all types of publicly issued shares from Chinese issuers from all market caps. To meet the ESG criteria, it screens out any issuers that have any controversies according to the UN Declaration of Human Rights, the International Labor Organization Declaration on Fundamental Principles and Rights at Work, and the UN Global Compact. The index also screens out any companies that are involved in alcohol, tobacco, civilian firearms, gambling, nuclear power, and conventional and controversial weapons.
For more news, information, and analysis, visit the China Insights Channel.
---
Content continues below advertisement