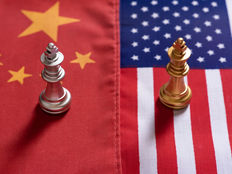 Calls for the government of China to implement more tangible stimulus measures to revitalize economic growth could get even louder. Data in August showed that factory activity continued to slow down.
Given this, investors may want to seek the safe havens of large cap companies. The Chinese government continues to try and right the country's economic ship. The second largest economy continues to deal with the after-effects of its real estate development crisis and while the government plans to implement stimulus measures, it remains to be seen whether it will be enough to spur growth.
"China's factory activity in August shrank for a fifth straight month, while non-manufacturing activity hit a new low for the year — signs that the slowdown in the world's second-largest economy may not yet have bottomed out," CNBC reported.
Manufacturing activity took a hit when a resurgence in Covid-19 cases re-installed government-mandated lockdowns. The easing of these restrictions inspired an abundance of optimism heading into 2023. Still, the latest manufacturing data shows that China still has some recovering to do.
"The survey results show that insufficient market demand is still the main problem that enterprises are facing, and the foundation for the recovery and development of the manufacturing industry needs to be further consolidated," Zhao Qinghe, a senior NBS official, said in a statement.
Focused Large Cap Exposure
China continues to work on resuscitating its economic growth. While this happens, getting large cap exposure can help mute the continued volatility in Chinese equities. Investors can get even more focused exposure on the country's 50 largest companies in one place: the KraneShares Bosera MSCI China A Share ETF (KBA A-).
Per its basic fund description, KBAs seeks to capture 50 large-cap companies. As mentioned, it looks for companies that have the most liquidity and are listed on the Stock Connect. It  also offers risk management through the futures contracts for eligible A shares listed on the Stock Connect. The index utilizes a balanced sector weight methodology to give exposure to the breadth of the Chinese economy.
"A key feature of this Index is that it offers the first officially recognized Futures contracts for Stock Connect-eligible A-shares, representing a powerful risk management tool that makes its underlying stocks attractive to international investors," the KraneShares product site explained. "KBA focuses on the largest, most liquid stocks, which receive most foreign interest and inflows and may benefit from increased global investment in China's onshore market over the long term."
For more news, information, and analysis, visit the China Insights Channel.
---
Content continues below advertisement