This year looks to be the year that the impacts of aggressive monetary policies will play out on the global stage. While much of the world's economies are likely to continue slowing in 2023, China is pushing forward towards recovery, creating an avenue of opportunity for advisors and investors to capture rebound potential and growth through Asian bonds.
Barclay's has raised its global growth forecast from its mid-November estimates of 1.7%–2.2%, carried largely by the upwards revision for China's outlook.
"This is largely driven by the 1.0pp increase in our China growth prediction to 4.8% from last week," as well as increases across Europe and minor upwards revisions for the U.S., Japan, and the U.K., Barclays head of economic research Christian Keller told CNBC.
The 4.8% growth estimate from Barclay's aligns with China's goal of 5%, and it's one of only a handful of countries that are forecast for growth above 3% this year; its rebound is already creating strong yield opportunity for investors within Asian bonds.
Seizing Opportunity in Asian Bonds With KHYB
"We believe China's real estate development industry could be ripe for a turnaround due to state support and a healthier relationship with leverage," wrote KraneShares in its 2023 China Outlook report. "Improving sentiment towards the industry could benefit the KraneShares Asia Pacific High Income Bond ETF (KHYB C+), which includes a significant allocation to real estate developers in China."
---
Content continues below advertisement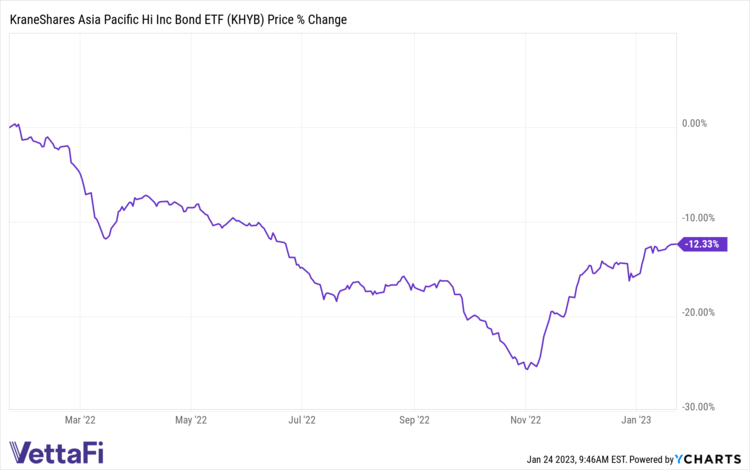 KHYB is an actively managed fund that invests in USD-denominated high yield debt securities from companies in Asia, excluding Japan. The fund is poised to capture the recovery and growth of the Asian bond market and currently has a 30-day SEC yield of 10.51%.
"We believe that some of the bonds in this portfolio may exhibit equity-like risk and return characteristics due to the historically wide spread between China property bond yields and yields in other non-investment grade markets," KraneShares wrote.
KHYB is benchmarked to the JPMorgan Asia Credit Index (JACI) Non-Investment Grade Corporate Index and invests in high yield fixed income securities, or "junk bonds," that are rated below the four highest categories (Ba1/BB+ or lower) by at least one credit rating agency, or, if unrated, are determined by the sub-advisor to be of similar quality.
Nikko, the sub-advisor, uses top-down macro research and bottom-up credit research to create the portfolio, as well as a proprietary process that is a combination of qualitative and quantitative factors used to value an issuer's credit profile.
By moving the credit curve up, KHYB will be more defensive against the benchmark and have shorter-duration bonds than the index. When the bonds mature, Nikko can decide how and when it wants to redeploy and invest in new bonds, depending on market conditions.
KHYB carries an expense ratio of 0.68%.
For more news, information, and anlysis, visit the China Insights Channel.