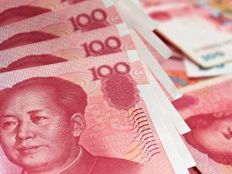 The International Monetary Fund (IMF) forecast global GDP growth of just 3% in 2028 — the organization's most tepid medium-term outlook in years. However, the IMF predicted that China will be doing plenty of the heavy lifting when it comes to global economic output over the next several years.
That could be a boon for dozens of exchange traded funds that are broad-based plays on stocks in the world's second-largest economy, including the (KALL A-).
Through 2028, the IMF expected that China will account for 22.6% of global growth — nearly as much as the 24.2% that India and the U.S. are slated to contribute on a combined basis. No other country is even close to those levels; Indonesia is in the fourth spot at 3.6% forecast growth through 2028, according to the IMF.
"So, when you look at the total flows into the emerging market, China is by far the largest recipient of global capital, and that is good for the Chinese economy," noted Tobias Adrian, financial counsellor and director of the Monetary and Capital Markets Department of the IMF.
In what could be a near-term positive for KALL, the IMF predicted that China's economy will grow at a 5.2% clip this year — well ahead of what investors will find with major developed economies and many other emerging markets. China's economic growth is relevant beyond its own borders. Growth there often acts as a rising tide that lifts a lot of boats.
"When China's growth rate rises by 1 percentage point, growth in other countries increases by around 0.3 percentage points, according to recent IMF staff analysis. That underscores how domestic reforms could boost China's economy and that of others too," noted the IMF.
KALL is a pertinent play on Chinese economic leadership because it's diverse; its 212 holdings trade in Hong Kong, New York, or mainland China. That means investors can tap into some Chinese equities that were previously hard to access and that offer liquidity, including U.S.-listed names.
KALL could also be relevant going forward because the Chinese government takes an active role in supporting the economy there — a favorable trait at a time when economists are wagering on a prolonged period of risk and slack global growth.
"Risks to the outlook are squarely to the downside," the IMF said. "Much uncertainty clouds the short- and medium-term outlook as the global economy adjusts to the shocks of 2020–22 and the recent financial sector turmoil. Recession concerns have gained prominence, while worries about stubbornly high inflation persist."
For more news, information, and analysis, visit the China Insights Channel.