Foreign investors are pouring back into China after having been underweight for much of the last year and a half. Over $1.85 billion flowed into Mainland stocks via the Northbound Stock Connect, and in Hong Kong, the internet giants performed strongest.
It was a strong trading day for Chinese stocks with Hong Kong's Hang Seng Index up 1.25%, the Mainland's Shanghai Stock Exchange up 1.01%, and Shenzhen Stock Exchange up 1.59%.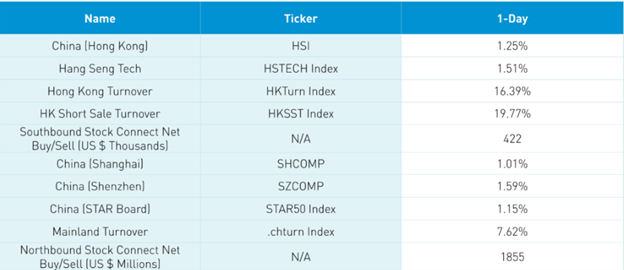 "Mainland China's strong day highlighted the outperformance of large-cap/mega-cap stocks favored by foreign and domestic investors," explained Brendan Ahern, CIO of KraneShares, on the blog.
Those stocks included EV battery giant CATL, up 6.12%; Kweichow Moutai, China's largest liquor supplier, up 4.41%; Wuliangye Yibin, another major liquor supplier, up 5.27%, and GoerTek, a supplier for Apple, up 9.99%.
"Foreign investors bought a healthy $1.855 billion of Mainland stocks via Northbound Stock Connect. This action indicates professional investors scrambling to raise/initiate their China positions after being underweight," Ahern wrote.
Hong Kong experienced a similar bump, with growth leading the way, headed by the internet giants foreign investors are most familiar with: Tencent was up 1.44%, Meituan was up 5.42%, Alibaba HK was up 3.32%, and JD.com HK was up 2.66%.
---
Content continues below advertisement
Investing Opportunities in Mainland China
The offers foreign investors access to the mainland markets and invests in Chinese A shares across multiple sectors — specifically those from the MSCI China A 50 Connect Index. The fund seeks to capture 50 large-cap companies that have the most liquidity and are listed on the Stock Connect, while also offering risk management through the futures contracts for eligible A shares listed on the Stock Connect. The index utilizes a balanced sector weight methodology to give exposure to the breadth of the Chinese economy. KBA has an expense ratio of 0.56%, with a fee waiver that expires on August 1, 2023.
The tracks the MSCI China All Shares Index, a benchmark of companies that are based in and headquartered in China as well as listed on the Mainland, Hong Kong, and the U.S. KALL is broadly diversified across the Chinese equity market, and has an expense ratio of 0.48% with a fee waiver that expires on August 1, 2023.
In light of the COVID wave currently happening, the could be a timely play. KURE offers investors access to the Chinese healthcare sector and seeks to track the MSCI All China Health Care 10/40 Index, a free float-adjusted market cap-weighted index. The fund includes companies listed on the Mainland, Hong Kong, and the U.S. and invests across small-, mid-, and large-cap companies that includes many vaccine manufacturers in China. KURE has an expense ratio of 0.65% with a fee waiver that expires August 1, 2023.
For more news, information, and strategy, visit the .