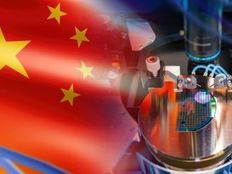 Institutional investors are flocking to Chinese equities once again thanks to the assistance of supportive government policies that are helping to revitalize the economy. One of the measures includes a decreased crackdown on the technology sector, which should appease China tech bulls.
The Evergrande crisis in 2021 only added to the issues of the Chinese stock market that also saw weakness as the government sought to curb monopolies in big tech. That only cascaded in 2022 as rising global inflation paired with a resurgence in COVID-19 cases put a dent in economic growth.
The capital markets are now expecting a turnaround in China, especially when it comes to big tech. Wall Street firms are looking at strength in Chinese tech after the government signaled it would ease its regulatory restrictions.
"Chinese tech stocks are suddenly back in Wall Street's favor, but that doesn't mean investors and analysts expect the sector to regain its former glory any time soon — if ever," a Bloomberg report said.
Early indicators of strength include a rise in the Hang Seng Tech Index, which is akin to the Nasdaq 100 in the U.S., which essentially tracks big tech. Wall Street's largest firms are already effusive in their bullishness for Chinese tech equities.
"From Goldman Sachs Group Inc. to Morgan Stanley, a growing number of strategists have made bullish calls following President Xi Jinping's Covid Zero exit and vows to end a crackdown on the sector," Bloomberg added. "The shifts have spurred a 60% rally in the Hang Seng Tech Index since an October trough, a world-beating feat even though the gauge's market value is still half of its February 2021 peak."
The past few months have been showing positive signs for both the broad U.S. and Chinese stock markets thus far. However, the MSCI China index is up 35% over the last three months, while the S&P 500 is up 9%.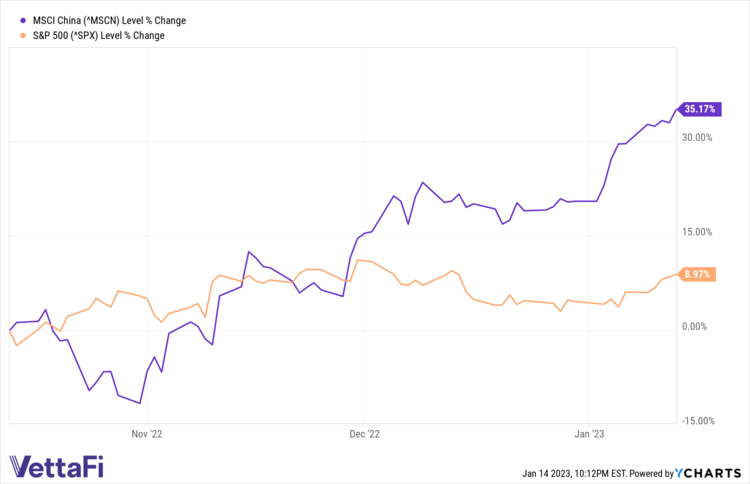 Encapsulate China's Big Tech in 1 ETF
Investors looking to capitalize specifically on big tech's potential rise in China can look at exchange traded funds (ETFs) that track the Hang Seng Tech Index. One such fund is the .
KTEC offers exposure to Hong Kong internet stocks, e-commerce companies, fintech firms, and other tech-related companies. KTEC seeks to track the aforementioned Hang Seng TECH Index. The index itself includes the 30 technology companies in Hong Kong's burgeoning tech sector with the highest free-float market capitalization.
For more news, information, and analysis, visit the China Insights Channel.
---
Content continues below advertisement