Bank failures and fears of contagion in the broader sector have caused strong volatility spikes in markets this week, in an environment where a subset of strategies is thriving. Within fixed income, treasuries are king this week but the Quadratic Interest Rate Volatility and Inflation Hedge ETF (IVOL ) has risen to the top in the wake of bank crisis fears.
"With the bank failures and uncertainty in the next move by the Federal Reserve, there has been greater volatility in the fixed income market. This is an environment when actively managed IVOL is positioned to succeed," explained Todd Rosenbluth, head of research at VettaFi.
IVOL from KFAFunds, a KraneShares company, is designed to have a twofold hedge against an increase in fixed income volatility and/or an increase in inflation. The fund also seeks to maximize yield curve increases, either brought about by long-term interest rates increasing or short-term interest rates falling; both are tied to big equity market declines.
The Quadratic Interest Rate Volatility and Inflation Hedge ETF (IVOL ) currently has the top returns of all fixed income ETFs in the last week at 14.85% according to ETF Database data, as well as top returns for the last month at 12.46%.
Concerns of the impact of potential regional bank failure contagion have caused a flight to treasuries in the last week, collapsing the yield on the 2-year in its biggest three-day drop since 1987. Markets remain uncertain of both the Fed interest rate path looking ahead as well as what it means for inflation.
"The biggest risk for investors is if the Federal Reserve fails to control inflation, and its rate hikes push the economy into a recession. This combination of factors is akin to a stagflationary environment, consisting of a weak economy and elevated inflation, which would be a really difficult environment for investors," Nancy Davis, founder of Quadratic Capital Management and PM of IVOL, said last month in the wake of January's CPI print.
Investing in a Changing Narrative With IVOL
IVOL was the first ETF of its kind in active and passive options and offers access to the OTC fixed income options market, the mechanism it uses for long interest rate volatility. The fund invests in a mix of U.S. Treasury Inflation-Protected Securities (TIPS) of any maturity, which are U.S. government bonds whose principal amounts increase with inflation.
IVOL also invests in long options directly tied to the shape of the U.S. interest rate swap curve, which steepens when the spread between longer-term debt instrument swap rates and shorter-term debt instruments grows larger, flattens when the spread grows smaller, and inverts when the spread is negative.
---
Content continues below advertisement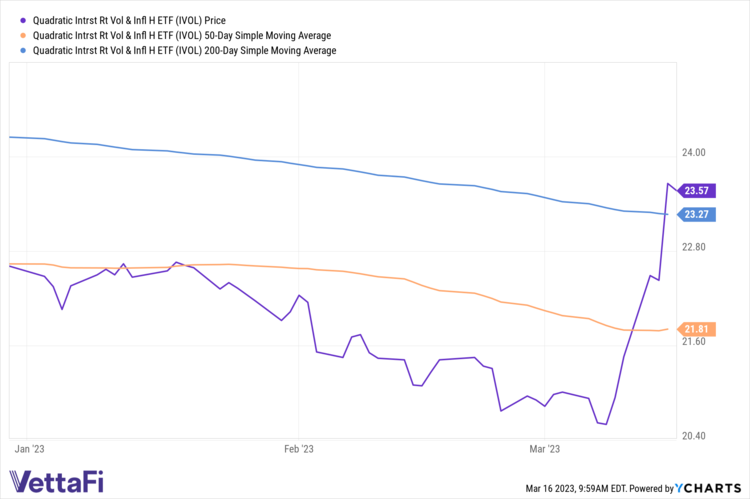 The fund is currently above its 50-day Simple Moving Average and recently crossed above its 200-day SMA on Wednesday though has dipped back below again in trading today. Crossing above these thresholds is considered a buy signal for trend followers and funds flirting with rising above their 200-day SMA are ones to watch.
IVOL is actively managed by Quadratic Capital Management, an alternative asset management firm with experience in the options and volatility markets. It expects to invest less than 20% of the fund in option premiums and seeks to purchase options with a time-to-expiration between six months and two years.
IVOL carries an expense ratio of 1.05%.
For more news, information, and analysis, visit the China Insights Channel.