The global economic outlook for 2023 has recently been revised down, reflecting the challenges many countries are facing this year from multiple fronts. With recession all but expected in the U.S. and other developed countries, there is opportunity to be found in China and many countries in the Pan-Asian region that are forecast for growth through the (KDIV ).
Global real GDP has been dropped from 3.2% to 2.2% in 2023, with the U.S. forecast to fall into recession for much of the year, ending the year with 0.2% year-over-year real GDP growth, according to the Conference Board in their global forecast update this month. China faces a number of challenges this year but should begin recovery in earnest mid-year, with a forecast of 5.1% real GDP growth in 2023.
"Outsized contributions to growth in 2023 are expected from China – driven by a rebound in activity following the removal of its zero covid policy – and other economies in the region, most notably India. At the same time, the US and European economies are expected to stagnate in 2023 due to brief, yet shallow, recessions," wrote the Conference Board
The (KDIV ) tracks companies that have grown their dividends sustainably over an extended time horizon in the Pan-Asia region. The fund offers exposure to China, Australia, Japan, and more and provides advisors with the opportunity to diversify their portfolios globally while still taking a more defensive stance against market volatility through dividend aristocrat companies.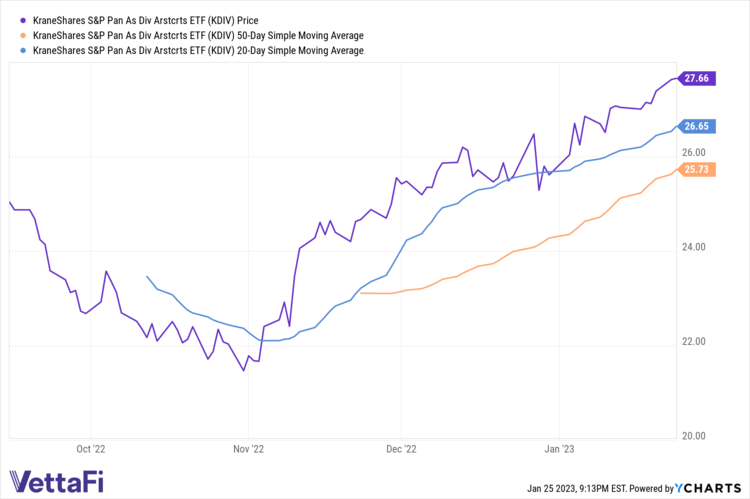 KDIV seeks to provide investment results that correspond to the performance of the S&P Pan Asia Dividend Aristocrats Index, is the first U.S.-listed ETF to apply the S&P Dividend Aristocrats strategy to the Pan-Asian area, and is currently trading above both its 20-day simple moving average (SMA) as well as its 50-day SMA. (The fund was launched in September 2022 and therefore doesn't have a 200-day SMA yet.) For trend-followers, it's a fund signaling "buy."
KDIV has an expense ratio of 0.69%.
For more news, information, and analysis, visit the China Insights Channel.
---
Content continues below advertisement