It's fairly well known that China is far and away the country that consumes the most coal. That particular form of energy is a major contributor to its pollution problem. The country also ranks at the top among countries contributing to global pollution (though the U.S. is No. 2).
However, most investors are likely unaware that China is also the world's largest producer of electricity via renewable energy. Indeed, the transition to a more environmentally sustainable economy is a major goal for the country. It has previously said it is aiming to achieve carbon neutrality by 2060.
In other words, nurturing, repairing, and protecting the environment is already a big business in China. It also has a lot of runway left ahead of it.
Less than a year ago, Chinese President Xi Jinping announced to the country's Communist Party Congress, held every five years, that China would prioritize the environment, Reuters reported. The country's leader noted his country's progress on environmental concerns and said that China was focused on eradicating serious air and water pollution as well as addressing soil contamination. He told the gathered crowd that addressing their country's environmental issues was necessary to achieve a "modern socialist country."
A Unique Investment Vehicle
Beyond alternative energy, the country is home to a host of other companies focused on providing environmentally beneficial products and services. That said, the $86.3 million KraneShares MSCI China Clean Technology Index ETF (KGRN B-) is the only U.S.-listed ETF to specifically tap into China's cleantech industries.
---
Content continues below advertisement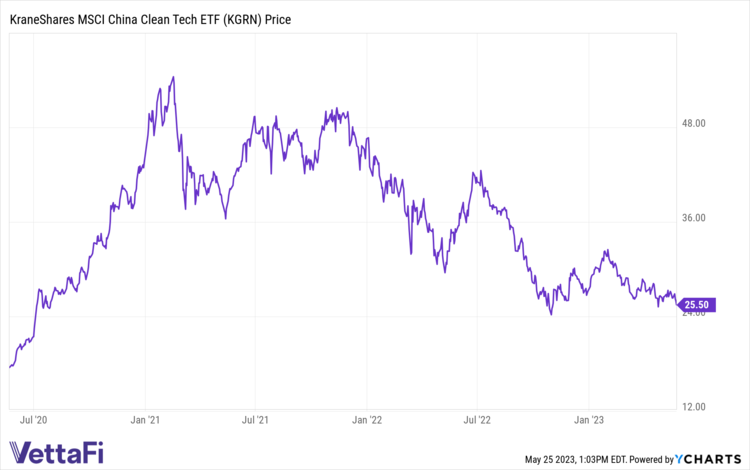 The 50 stocks in its portfolio also include companies involved in sustainable water, green building, pollution prevention and energy efficiency. Aside from companies involved in renewable energy generation and its components, KGRN's holdings include companies running data centers powered by alternative energy, electric vehicle manufacturers; waste management and clean water solutions providers; and real estate companies implementing sustainable practices and technologies.
Companies associated with electric vehicles dominate the fund's top holdings. The largest three are Li Auto, an electric vehicle company; BYD Company, which provides environmentally friendly products like electric vehicles and solar panels; and Contemperary Amperex Technology, a manufacturer of lithium-ion batteries and other energy storage solutions.
KGRN tracks the MSCI China IMI Environment 10/40 Index and has an expense ratio of 0.78%.
For more news, information, and analysis, visit the China Insights Channel.