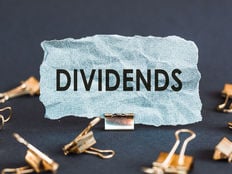 Dividend strategies remain extremely popular with advisors and investors this year as market volatility persists. Advisors looking to increase dividend strategy allocations should consider the tactical (KVLE C+).
Dividend funds are a long-established defensive strategy in times of market turmoil and volatility.
"Given the expectations of market volatility this summer, many advisors are seeking out high quality US equity strategies to mitigate risk," explained Todd Rosenbluth, head of research at VettaFi.
KVLE invests in higher-yield companies while diversifying in a way that a "theme" portfolio does not. The fund takes a more targeted approach to investing in dividends, with a portfolio of just 60 companies as of the end of April.
"The index fund is unique in its monthly rebalancing making it more tactical than most dividend focused ETFs," Rosenbluth said.
Favorable Yields for KVLE's Dividend Strategy
The fund is a core equity portfolio of securities that are tilted to favor dividend yield. It seeks to increase yield while avoiding investing solely in high yield sectors and stocks. It's an approach that has generated better yields than the S&P 500 year-to-date.
KVLE offers a 30-day SEC yield of 2.37% as of 05/18/23. In comparison the (SPY A) has 30-day yield of 1.50% over the same period.
The fund's price performance has lagged the S&P 500 this year, largely due to more defensive positioning in Q1 according to KFA Funds. The fund has since rotated, with information technology the largest sector by weight at 24.95%. This is followed by utilities at 21.41% and financials at 15.50%, all as of 04/30/23.
KFA Funds, the subadvisor of KVLE, noted that since KVLE's inception in November 2020, it has outperformed the MSCI High Dividend Yield NR Index, 25.60% compared to 12.18% respectively.
See also: KDIV Captures Dividend Aristocrat Growth in Pan Asia
---
Content continues below advertisement
Cost-Efficient Alpha and Risk Management
KVLE is benchmarked to the 3D/L Value Line Dynamic Core Equity Index. The fund utilizes optimization technology to emphasize securities with solid dividend yields with the highest rankings in Value Line Safety and Timeliness.
"KVLE's Index is rebalanced monthly to maintain a favorable risk profile compared to the S&P 500," wrote KFA Funds. This risk profile is "from a market technical and volatility standpoint while providing a higher dividend yield."
The fund uses a smart beta strategy in seeking more cost-efficient alpha. It also employs a risk management strategy that seeks to limit the effects of major market declines and capture positive returns.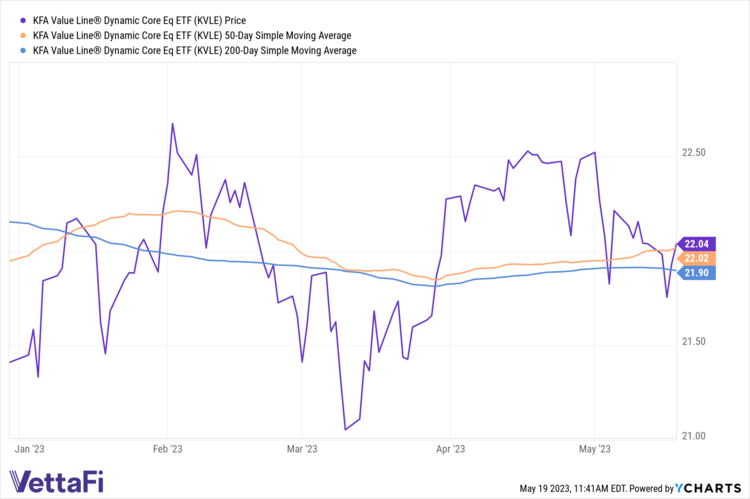 KVLE is currently above it's 200-day Simple Moving Average and just crossed above its 50-day SMA. It's a strong technical indicator signaling the fund is a buy for trend following investors.
The two largest holdings by weight within KVLE are (AAPL) at 7.54% and (MSFT) at 7.12% as of 05/18/23.
KVLE carries an expense ratio of 0.55%.
For more news, information, and analysis, visit the China Insights Channel.