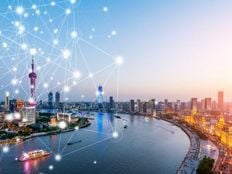 It was another strong day for internet stocks in Hong Kong as Asian investors rallied around the COVID regulatory rollback in China. Internet stocks are positioned to be some of the first to benefit from rollbacks with their exposures to e-commerce and travel, and the KraneShares CSI China Internet ETF (KWEB B) is positioned to capture the increase.
The investment thesis continues to grow stronger for China, which issued a statement earlier this week that "… the recovery of consumer demand is particularly critical to economic growth, and consumption is directly related to epidemic prevention policies," according to the blog.
The KraneShares CSI China Internet ETF (KWEB B) tracks the CSI Overseas China Internet Index and measures the performance of publicly traded companies outside of mainland China that operate within China's internet and internet-related sectors.
KWEB is currently above both its 50-day Simple Moving Average and its 200-day SMA, strong indicators to buy, and investors have taken note. The fund has brought in $291 million since December 1st, riding high on news of China's reopening.
The fund includes companies that develop and market internet software and services, provide retail or commercial services via the internet, develop and market mobile software, and manufacture entertainment and educational software for home use.
The fund has seen net flows of $694 million in May through May 24th as advisors and investors have sought exposure, with many of the holdings contained in KWEB continuing to trade at levels that are less than half of the multiples of their U.S. counterparts.
KWEB provides exposure to the Chinese internet equivalents of Google, Facebook, Amazon, eBay, and the like, all companies that benefit from a growing user base within China and a growing middle class. The fund has worked to convert all possible share classes over to Hong Kong shares instead of ADRs to protect investors in case of Chinese delistings within U.S. markets.
The ETF has an annual expense ratio of 0.70% and has $6.4 billion in AUM.
---
Content continues below advertisement