The People's Bank of China cut its short-term borrowing rate Tuesday, a move that follows on the heels of last week's deposit rate cuts. Domestic markets rose in response to the stimulus, lifting companies like Tencent and Alibaba, and carrying (KWEB B) into buy territory.
The PBOC trimmed the 7-day reverse repurchase rate Tuesday, from 2% to 1.9%, reported CNBC. It's a move that injects an additional 2 billion yuan (nearly $280 million USD) into the system. The cut comes shortly after Chinese banks announced deposit interest rate cuts last week.
It's all part of parcel of the expected move towards greater monetary easing and support, and markets responded favorably. Tencent rose 1.89%, Alibaba gained 2.02%, and Baidu rose 4.86% in overnight trading in Hong Kong, reported Brendan Ahern, CIO of KraneShares, in the China Last Night blog. Mainland markets also climbed above key levels Tuesday.
See also: Tencent Soars Past Revenue Expectations in Earnings Report
The medium-term lending rate and the loan prime rates are currently forecast for reductions this week and next after the short-term borrowing rate cut Tuesday.
"We believe monetary policy will continue to focus on keeping liquidity ample and credit growth steady," UBS Global Wealth Management reported.
Capture Stimulus and Recovery in China With KWEB
The (KWEB B) tracks the CSI Overseas China Internet Index. The index measures the performance of publicly traded companies outside of mainland China that operate within China's internet and internet-related sectors.
---
Content continues below advertisement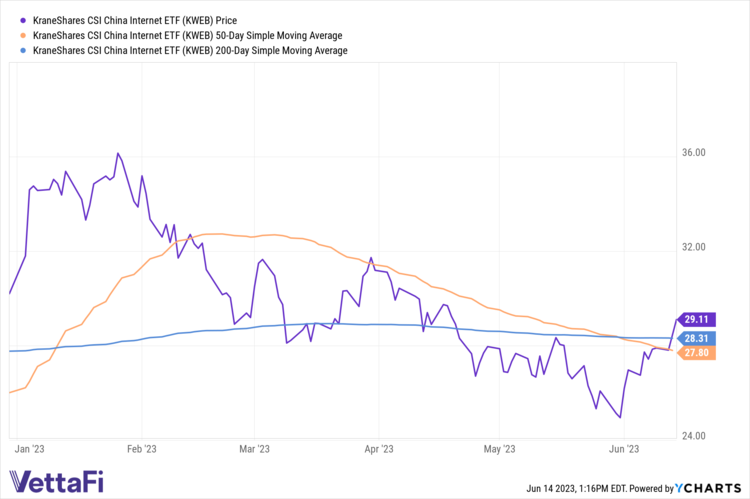 KWEB is down 3.44% YTD but continues to exhibit strong recovery from May lows. The fund crossed above both its 50-day Simple Moving Average and its 200-day SMA Wednesday, a strong buy signal.
The fund includes companies that develop and market internet software and services. It also tracks companies that provide retail or commercial services via the internet, and develop and market mobile software. Companies that manufacture entertainment and educational software for home use are included as well.
KWEB provides exposure to the Chinese internet equivalents of Google, Facebook, Amazon, and eBay, all are companies that benefit from China's growing user base and growing middle class. The fund worked to convert all possible share classes over to Hong Kong shares instead of ADRs to protect investors from risk.
The ETF carries an expense ratio of 0.70% and has approximately $5 billion in AUM.
For more news, information, and analysis, visit the China Insights Channel.