China's central bank announced yet another easing that freed up banks to lend more money last week, and foreign investors have taken note as markets in China go risk on.
The People's Bank of China reduced its reserve requirement ratio at the end of last week from 11% to 10.75%, freeing up another $72 billion for banks to lend. It's a sharp contrast to central banks in other regions which are continuing to raise rates, including the European Central Bank's recent 0.50% rate hike and U.S. markets pricing in a 0.25% rate hike by the Fed this week.
Overseas investors bought $625 million net in Mainland shares in trading overnight, the seventh consecutive day of net buying while investors from Mainland bought $129 million net in Hong Kong shares, the tenth day in a row of net buying, noted Brendan Ahern, CIO of KraneShares, in the China Last Night blog.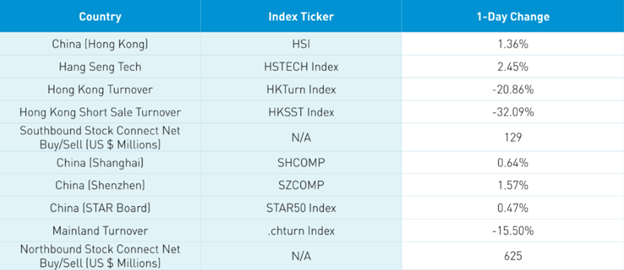 It's noteworthy that China's financial sector was one of the of the best performing overnight in Mainland markets, Hong Kong, and globally. China's technology sector also gained, buoyed by significant approvals within gaming as regulatory risk seems to be firmly in the rearview: the Hang Seng Tech Index was up 2.5% in trading overnight.
"Technology, real estate, and healthcare also rebounded overnight as investors go 'risk-on' in China stocks following global bank failures," Ahern wrote.
See also: China's Consumers Are on the Move: Invest with KBUY
---
Content continues below advertisement
Options for Investing in China With KraneShares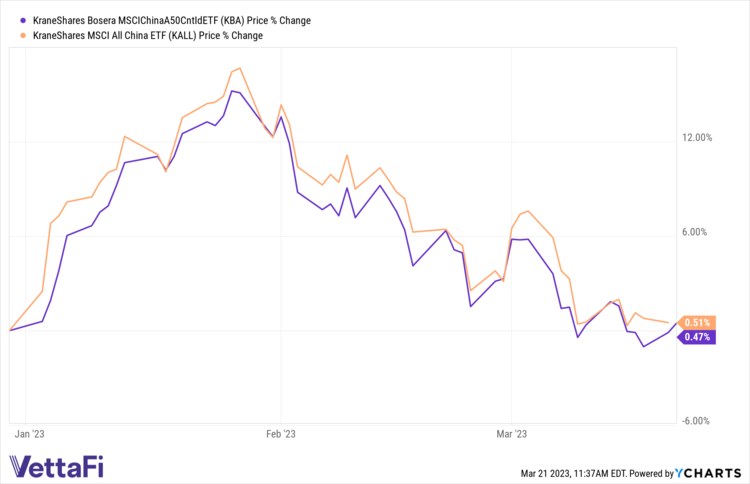 The (KBA A-) offers foreign investors access to the mainland markets and invests in Chinese A shares across multiple sectors — specifically those from the MSCI China A 50 Connect Index. The fund seeks to capture 50 large-cap companies that have the most liquidity and are listed on the Stock Connect, while also offering risk management through the futures contracts for eligible A shares listed on the Stock Connect. The index utilizes a balanced sector weight methodology to give exposure to the breadth of the Chinese economy. KBA has an expense ratio of 0.56%, with a fee waiver that expires on August 1, 2023.
The (KALL A-) tracks the MSCI China All Shares Index, a benchmark of companies that are based in and headquartered in China as well as listed on the Mainland, Hong Kong, and the U.S. KALL is broadly diversified across the Chinese equity market, and has an expense ratio of 0.48% with a fee waiver that expires on August 1, 2023.
For more news, information, and analysis, visit the China Insights Channel.