The global energy crisis in 2022 brought the energy transition into sharp focus for much of the world as Europe worked to move away from Russian energy reliance and towards renewable energy options. With supportive policies now in place for many of the world's carbon markets, there is a strong opportunity and a number of reasons for investors to consider investing in carbon allowances this year as laid out by Climate Finance Partners (CLIFI) in a recent KraneShares white paper.
Policy support is either already in place or imminent for carbon markets to set ambitious climate targets that will require tightening markets and supply scarcity, driving up prices. The EU recently reduced their emissions caps to meet a more aggressive 2030 climate goal, cutting available carbon allowances supply by 14% between 2024-2030. California,

RGGI

, and the UK are all anticipated to begin a similar process this year.
The short-term pivot to coal in Europe as a supplemental energy source will drive up demand in the near term for carbon allowances because of higher emissions. The EU has responded by releasing additional allowances into the market to help fund the energy transition away from Russia by "borrowing" allowances from future auctions. "While the current extra supply creates downward pressure on short-term prices, it also supports steeper future structural price appreciation,"

CLIFI

explained.
The global economy is forecast for economic slowing for much of this year, and KraneShares anticipates that economic recovery will begin in 2024-2025. When the rebound happens, it is likely to equate to increased emissions from industries and productions ramping up again and thereby driving increased demand for carbon allowances. It's another point of potential appreciation from current price levels that's worth noting.
The current lack of emissions reductions and abatement technologies that are cost-efficient means that as climate policies tighten in carbon markets, there will be increased reliance and sustained demand for carbon allowances to meet emissions goals. Many of the emissions will come from industries that are notoriously difficult for abatement technologies, such as transportation and the heavy industrial sector. For now, European and U.K. industrial emissions are intrinsically linked to production levels and make up about half of all emissions for their regions.
"Technologies such as green hydrogen, carbon capture and storage (

CCS

), and sustainable aviation fuel are considered critical for the decarbonization of industrial sectors and transportation; however, they face significant economic viability challenges,"

CLIFI

explained.
Investing in Carbon Allowances With KRBN
Carbon allowances can offer a diversified return stream for portfolios from traditional stocks and bonds, and while they are impacted by the macroenvironment, there is potential strong foundational support looking ahead for allowance prices that are currently underpriced to meet future emissions goals. Advisors and investors have a strong opportunity right now for entry at what is likely to be the floor level for carbon allowance prices looking ahead this year and beyond.
"Acknowledging the possibility of near-term macroeconomic weakness and geopolitical risks, we feel the current environment provides an attractive entry point, positioning for the expected economic recovery," CLIFI said.
---
Content continues below advertisement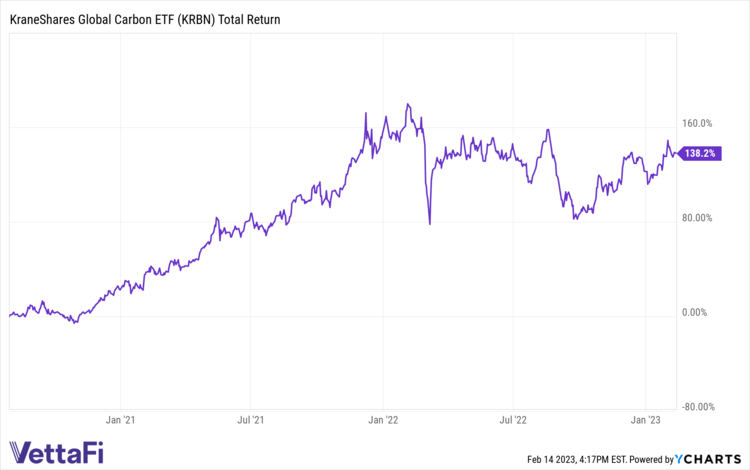 The KraneShares Global Carbon ETF (KRBN ) was the first of its kind to offer an investment take on carbon credits trading and provides exposure to major carbon markets worldwide and has total returns of over 138% since its July 2020 inception.
KRBN tracks the IHS Markit Global Carbon Index, which follows the most liquid carbon credit futures contracts in the world. This includes contracts from the European Union Allowances (EUA), California Carbon Allowances (CCA), Regional Greenhouse Gas Initiative (RGGI) markets, and the United Kingdom Allowances (UKA).
KRBN carries an expense ratio of 0.78%.
For more news, information, and analysis, visit the Climate Insights Channel.