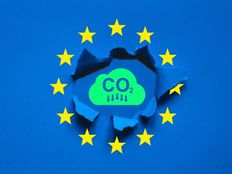 Prices on European Union carbon allowances have dropped about 13% in the last week, pulling the overall global market index down. Luke Oliver, head of climate investments at KraneShares, discussed the recent price action and outlook for the EU allowances market on the Climate Market Now blog.
The global IHS Markit Global Carbon Allowance Index which measures carbon prices in the major compliance markets around the world, was down 10% this week, pulled largely by price drops in the EU and UK allowances markets while California and RGGI's allowance prices remained largely stable.
The price drops have been driven by two primary headwinds: lower liquidity driven by the U.S. bank collapses as well as stabilization for natural gas price and demand which creates lower short-term emissions.
"We also saw a bearish signal with lower auction volumes this week clearing at a discount to spot prices (€83.25 vs. €85.62) and generally lower hedging forecasts," Oliver explained. "As with all of these short-term drivers, the tightening of the markets combined with emissions reduction ambitions will keep the upward pressure."
Carbon allowances, as a smaller and newer asset class, tend to be more volatile than longer established asset classes, but KraneShares anticipates these markets to have lower beta when markets are moving downwards and higher beta as markets rise.
Europe also just announced the Net Zero Industry Act, their equivalent of the Inflation Act in the U.S. passed last year.
"The Act will incentivize European Union countries to compete with U.S. and China in creating clean technologies and sets a goal of producing at least 40% of its clean tech needs within the EU bloc by 2030," Oliver said. It plans to do so through eight main initiatives that include solar energy technologies, onshore and offshore wind energy, geothermal energy, carbon capture technologies, and more, as well as limiting the percentage of raw materials sourced from individual counties beyond the EU.
Notably, the Act also sets a goal of 50 million tons of CO2 storage capacity by 2030 and requires oil and gas companies to invest in the transition.
Investing in EU Carbon Opportunities With KraneShares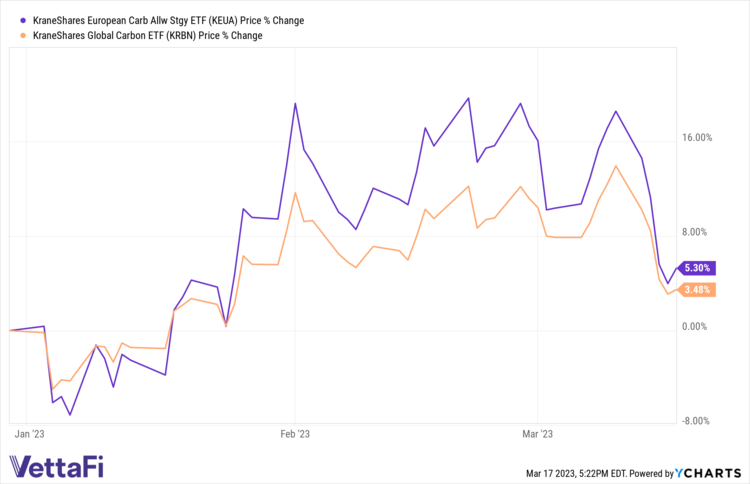 ---
Content continues below advertisement
The KraneShares European Carbon Allowance ETF (KEUA ) offers targeted exposure to the EU carbon allowances market and is actively managed.
The fund's benchmark is the IHS Markit Carbon EUA Index, an index that tracks the most-traded EUA futures contracts, a market that is the oldest and most liquid for carbon allowances. The market currently offers coverage for roughly 40% of all emissions from the EU, including 27 member states and Norway, Iceland, and Liechtenstein. KEUA has an expense ratio of 0.78%.
The KraneShares Global Carbon ETF (KRBN ) was the first of its kind to offer an investment take on carbon credits trading and provides exposure to major allowance markets worldwide. KRBN tracks the IHS Markit Global Carbon Index, which follows the most liquid carbon credit futures contracts in the world. This includes contracts from the European Union Allowances (EUA), California Carbon Allowances (CCA), Regional Greenhouse Gas Initiative (RGGI) markets, and the United Kingdom Allowances (UKA).
For more news, information, and analysis, visit the Climate Insights Channel.