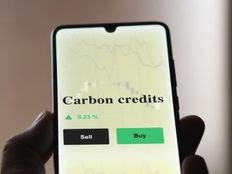 Market opportunities that present themselves as growth options usually take time. However, in a world that's as fast-moving as now, the carbon futures sector can potentially offer growth for investors looking for fast results, providing upside and adding diversification along the way.
That level of exponential growth was experienced in carbon stocks, for example, in 2021. As the world was battling the early stages of the COVID-19 pandemic, 2021's bullish run in the stock market saw carbon companies expand their market caps by leaps and bounds.
The growth was further fueled with the help of U.S. government policies conducive to reducing carbon emissions. It's not just in the U.S. that this move towards greener energy sources is occurring, which gives investors global options to consider in the carbon sector.
"After a record-breaking price run in the compliance and voluntary markets in 2021, many carbon stocks reached large market caps," a Carbon Credits article said.
Of course, 2022 brought market challenges to carbon stocks and the overall stock market in general, but their propensity to experience growth is still something to consider as the capital markets lick their wounds from last year's weakness. That said, carbon stocks can offer investors a tremendous growth opportunity that has the potential to yield quick results given the world's push toward cleaner energy generation.
A Global Carbon ETF Option
As mentioned, the worldwide push gives investors the alternative to seek out opportunities beyond U.S. borders in the carbon sector. That said, investors may want to consider the .
KRBN tracks the IHS Markit Global Carbon Index, which follows the most liquid carbon credit futures contracts in the world. As mentioned on its product website, KRBN "introduces a new measure for hedging risk and going long the price of carbon while supporting responsible investing."
Speaking to its global reach, the fund includes contracts from the European Union Allowances (EUA), California Carbon Allowances (CCA), Regional Greenhouse Gas Initiative (RGGI) markets, and the United Kingdom Allowances (UKA). North American pricing data is supplied by IHS Markit's OPIS service, while European prices are supplied by ICE Futures Pricing.
"KRBN may be appropriate for investors who are concerned about the increase in cost of carbon emissions on their portfolios," KraneShares noted. "As the cost of carbon emissions rise, KRBN typically benefits, while companies with heavy carbon footprints typically suffer."
For more news, information, and analysis, visit the Climate Insights Channel.
---
Content continues below advertisement