Investors looking for diversification opportunities in challenging markets need to look no further than carbon allowances. The KraneShares Global Carbon ETF (KRBN ) offers non-correlated returns to the domestic market as well as equities abroad.
Carbon allowances remain a somewhat overlooked corner of markets that can offer strong diversification potential. In a KraneShares April webcast on the VettaFi platform, 60% of advisors polled reported no familiarity with carbon allowance markets.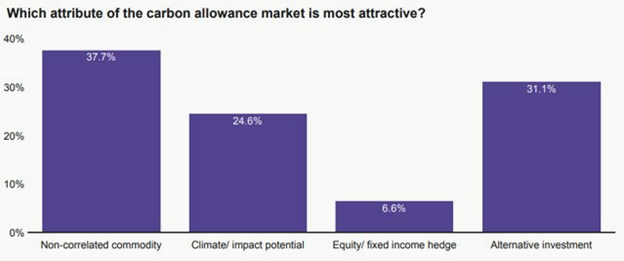 In the same webcast, advisors found carbon allowances' role as a non-correlated commodity to be most attractive. This was followed by their use as an alternative investment in a portfolio.
It's not surprising, given the low correlation that carbon allowances have to bonds and equities. KRBN is used below as a carbon allowance proxy for illustrative purposes.
---
Content continues below advertisement

KRBN has the greatest correlation to developed markets excluding the U.S. at 0.36. Meanwhile, carbon allowances demonstrate very low correlation to the U.S. investment grade bond market at just 0.06.
Capture Carbon Allowances Diversification With KRBN
The KraneShares Global Carbon ETF (KRBN ) is the first of its kind to offer an investment take on carbon credits trading. KRBN provides exposure to major carbon markets worldwide, and is up 6.22% YTD, with 136% total returns since inception.
The fund provides inherent diversification through the number of global carbon allowances markets it invests in, in addition to the non-correlated nature of carbon allowances.
KRBN tracks the IHS Markit Global Carbon Index, which follows the most liquid carbon credit futures contracts in the world. This includes contracts from the European Union Allowances (EUA) and the United Kingdom Allowances (UKA) overseas. It also includes the California Carbon Allowances (CCA) and Regional Greenhouse Gas Initiative (RGGI) markets domestically.
KRBN carries an expense ratio of 0.78%.
For more news, information, and analysis, visit the Climate Insights Channel.
Visualizations and data provided by LOGICLY, which is a wholly owned subsidiary of VettaFi.