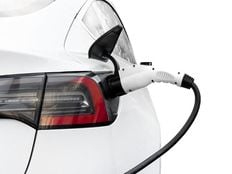 Electric vehicle demand continues to grow at a rapid rate, including in the car-rental industry. Hertz, the third-largest vehicle-rental company globally, looks to convert a fourth of its fleet to EVs by the end of 2024. The KraneShares Electric Vehicles and Future Mobility ETF (KARS C) is positioned to capture growing EV demand both domestically and abroad.
Hertz announced in its recent earnings report that it would convert a fourth of its 500,000 fleet to EVs by the end of next year, reported CNBC. The rental giant has contracted to buy 330,000 EVs from Tesla, GM, and Polestar, with 50,000 delivered to date.
The conversion meets a growing demand for EV rentals: Hertz anticipates 2 million electric vehicle rentals this year. That's a four-fold increase over last year, according to CEO Stephen Scherr. What's more, ridesharing drivers increasingly rent EVs because of increased customer demand as well as driver incentives.
"I think adoption will sort of continue to take hold," said Scherr on the earnings call. "I think Hertz and our EV fleet is the most affordable entry point for drivers to get into those electric vehicles and use them."
See also: New EPA Vehicle Emissions Proposal Would Benefit KARS
Invest in Broad Electric Vehicle Demand With KARS
The KraneShares Electric Vehicles and Future Mobility ETF (KARS C) offers a good solution for investors looking to capture the potential growth of major EV producers globally. Tesla is currently the sixth-largest holding of the fund at 3.53% weight. The fund takes not just a global approach to EV exposure, but also invests along the entirety of the value chain. It offers diversification for EV investors and is up 5.29% YTD.
---
Content continues below advertisement
KARS measures the performance of the Bloomberg Electric Vehicles Index, which tracks the industry holistically. This includes exposure to electric vehicle manufacturers, electric vehicle components, and batteries. It also includes hydrogen fuel cells and the raw materials utilized in the synthesis of producing parts for EVs.
KARS invests in many familiar car companies such as Tesla, Ford, and Mercedes-Benz, and major Chinese EV manufacturers such as Li Auto, Nio, and BYD. It also goes a step beyond and invests in the companies that contribute to the EV value chain. These include Samsung, Panasonic, and Albemarle, a major lithium manufacturer.
See also: BYD Takes EV Crown in China, Lifts KARS
KARS has an expense ratio of 0.70%.
For more news, information, and analysis, visit the Climate Insights Channel.