China is home to the largest domestic electric vehicle market in the world and has been for eight consecutive years. Now the country is looking to extend that dominance globally, making it a core allocation necessary for any EV strategy.
In 2022, China sold 6.8 million electric vehicles according to the China Association of Automobile Manufacturers compared to the U.S. which sold 800,000. China's EV industry continues to set and break its own records each year as demand skyrockets. "The forecasts are always too low," Tu Le, managing director at Sino Auto Insights, told MIT Technology Review about the difficulty in trying to anticipate EV growth.
The road to EV dominance has been long but is founded in sustained regulatory support from the Chinese government in the form of tax breaks, subsidies, and procurement contracts that have allowed the once nascent industry to flourish and grow at an exponential rate. China made a conscious choice to take a chance on developing electric vehicles in the early 2000s because the internal combustion engine vehicle industry was already dominated by the U.S., Japan, and Germany, and Japan was already well on its way to establishing dominance in hybrid vehicles.
That left EVs which presented a multi-pronged solution to combat China's extreme air pollution problems as well as help boost the economy in the wake of the 2008 financial crisis. China's government made EV development a core part of its economic plan in the early 2000s and spent more than 200 billion RMB ($29 billion USD) between 2009-2022 in tax breaks and subsidies.
Aside from developing its domestic EV industry, China is currently a key manufacturing home for many global EV companies such as Tesla, whose Shanghai Gigafactory made more than half of all Tesla vehicles delivered last year.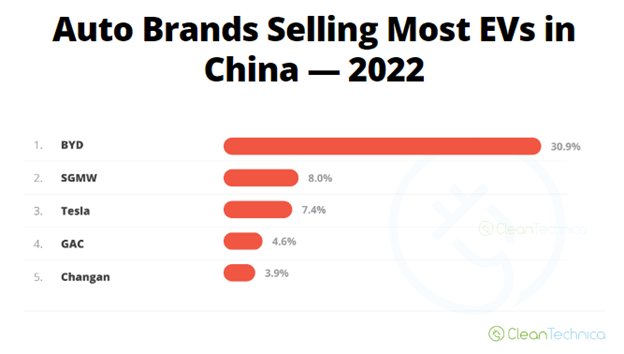 Add into the mix the growing popularity of lithium iron phosphate batteries (LFP) that have long been popular in China where they have gradually been optimized over time by companies like Contemporary Amperex Technology Co (CATL) for use in EVs and it makes for a convincing case for including Chinese companies as a core part of any EV strategies. As of September 2022, LFP batteries were about a third of all EV batteries sold globally and continue to take market share from the lithium nickel manganese cobalt (NMC) batteries preferred in the U.S. and Europe.
"That shows you how far LFP has come, and that's purely down to the innovation within Chinese cell makers. And that has brought Chinese EV battery [companies] to the front line, the tier-one companies," Max Reid, senior research analyst in EVs and battery supply chain services at Wood MacKenzie, told MIT Technology Review.
Many Chinese EV manufacturers are now beginning to export their vehicles to European markets and some are even considering the U.S. despite geopolitical and trade tensions. Most of the export growth however in the short-term is likely to come from "emerging Asia" according to Alicia García-Herrero, chief economist for Asia Pacific at Natixis, as these countries engage in their own energy transitions.
---
Content continues below advertisement
Investing in China's Global EV Market Growth With KARS
China's dominance as a car exporter continues to grow. In 2022 China exported 679,000 EVs, a gain of 120% over the previous year according to the South China Morning Post, and China took second place as a broad global car exporter, passing up Germany. Given that it is one of the only countries forecast for economic growth this year, the potential is strong for China to continue to expand this year within the global EV market.
The KraneShares Electric Vehicles and Future Mobility ETF (KARS C) offers a good solution for investors looking to capture the potential growth of major EV producers globally and is up 10.16% YTD. The fund takes not just a global approach to EV exposure but also invests along the entirety of the value chain, offering diversification for EV investors.
KARS measures the performance of the Bloomberg Electric Vehicles Index, which tracks the industry holistically, including exposure to electric vehicle manufacturers, electric vehicle components, batteries, hydrogen fuel cells, and the raw materials utilized in the synthesis of producing parts for electric vehicles.
The fund has an expense ratio of 0.70%.
For more news, information, and analysis, visit the Climate Insights Channel.