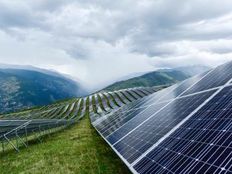 Balancing climate awareness and investment potential is a task made easier by broad strategies, including exchange traded funds. When it comes to the theme of large governments outside the U.S., China is one of the primary drivers of climate-related spending, confirming that there is ample capital to be deployed toward climate goals and net-zero ambitions. Investors can participate in that trend with the (KGRN B-).
KGRN follows the MSCI China IMI Environment 10/40 Index, which is comprised of Chinese clean technology companies and firms working on services and technologies aimed at bolstering that country's sustainability efforts. MSCI is one of the leading issuers of environmental, social, and governance indexes. Specific to KGRN's underlying index, that benchmark emphasizes themes such as energy efficiency, green buildings, cutting pollution, and enhancing access to potable water.
The $96.34 million KraneShares ETF, which debuted in October 2017, is relevant today as public and private sector spending converge to drive sustainability outcomes.
"Governments play a key role, but it will take both public- and private-sector commitments to reduce carbon emissions at the scale necessary. Corporations continue to make major commitments to reduce carbon emissions and aid the transition to a low-carbon economy across all industry sectors. According to the nonprofit Science Based Targets, more than 1,900 companies globally have committed to reducing their carbon footprint," according to Morgan Stanley.
Home to 53 stocks, KGRN has the breadth necessary to potentially capitalize on China's plans to reach peak emissions by 2023 and, from there, work towards net-zero three decades later. Given the country's track record of achieving long-term economic goals, it's easy to understand why some market participants are enthusiastic about the country's impact on sustainability as an investment concept.
Additionally, China is proving adept at boosting adoption of more than just renewable energy. The country is a major electric vehicle market and a significant player when it comes to smart grid technology — themes KGRN provides exposure to. In fact, several of the ETF's top 10 holdings are electric vehicle manufacturers.
"That said, the rebuilding of our global energy systems, infrastructure and technology to support the low-carbon transition present multiple climate investment opportunities outside of just renewable energy. These include electric vehicles, smart grids, energy storage, green hydrogen, and carbon capture, to name a few," added Morgan Stanley.
For more news, information, and analysis, visit the Climate Insights Channel.