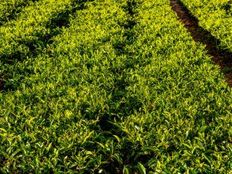 The Bloomberg ETFs In Depth – The Next Wave of Innovation conference included a panel called Digging Into Commodity ETFs featuring Astoria Portfolio Advisor's John Davi, Aberdeen's Bob Minter, KraneShares's Luke Oliver, and Bloomberg's Ashish Sethia. The panel dug into how commodities have performed and where they are going in 2023.
Commodities saw a crash in 2020 and a resurgence in 2021. 2022 saw sideways movement. According to Minter, China's reopening will impact the commodity markets in a big way in 2023. As he put it: "If you don't have a more active China in your outlook for 2023, you need to look at why." Minter also predicted that the U.S.'s release of its strategic reserve of oil will diminish, which hasn't been talked about much. He said that this is a positive for commodity prices. However, a big thing not changing is inventories, which are at lows in oil and metals.
Speaking to how investors look at commodities today, Oliver added, "Commodities kept their high correlation to inflation." Much of this is coming from energy, however. "There's going to be a shift away from fossil fuels over time, and metals will be the energy of the future," he noted. Metals will be needed for EVs, solar panels, and more. He also pointed to carbon's importance in the fight against emissions. KraneShares has a metals fund, the KraneShares Electricifaction Metals ETF (KMET B), as well as the KraneShares Global Carbon Strategy ETF (KRBN ), which investors can use to get exposure to these coming commodity trends.
Davi said that he believes an investor should have an allocation in place to deal with inflation, regardless of current inflation levels. "Five of the past seven years, when you've had no inflation, commodities had positive returns." He sees commodities as inflation insurance, noting that the AXS Astoria Inflation Sensitive ETF (PPI ) continues to see positive returns despite inflation having already peaked. "We like having these kind of hedges in our portfolios."
"There is absolutely going to be a divergence in returns among commodities," Oliver added, noting that some commodities have more bullish cases than others, with electrification metals like the ones KMET has exposure to on the cusp of becoming critical.
Minter observed that four of the last seven recessions have seen commodity prices in general rise. "Over the totality of these recession periods, the commodity index was higher leaving the recession than at the start of the recession."
"I think you can be comfortably long on inflation hedges," Davi said, reiterating his belief that inflation will be sticking around for a long time.
Returning to the reopening of China, Minter noted that emerging economies are poised to increase demand for commodities. Davi added that gold's recent rally has benefited from crypto's implosion as well as the dollar coming off its highs. Oliver sees backwardation as another critical aspect, making it easier for commodities futures investors to sit on commodities.
Discussing clean energy, Oliver said that, beyond the politicized ESG debate, "We're looking for dirty companies going clean." Minter added that the miners don't get enough credit for the steps that they've taken to get greener. "It's a big bet, and they have conviction they are going that way."
Carbon markets are likely to be an important tool in a net-zero future. Sethia noted that Bloomberg terminals have a tool to track carbon. Oliver said that carbon is no longer niche. It's a large, global trading network. The carbon markets create value for companies to cut emissions. "By doing these things that help the planet, you get carbon offset credits that you can then sell to companies like Starbucks." He noted that demand is growing and supply is behind, creating bullish conditions for KRBN. Carbon markets have low correlations, which makes them a compelling asset class in the coming years.