Carbon allowances markets, the regulated emissions markets that adhere to mandated policies, are largely up year-to-date in a challenging macro environment. California's most recent round of allowance auctions for its emissions trading system created positive price momentum and underlying price pressures that could prove advantageous for investors.
California recently underwent its first allowances auction for the year on February 15, when 56 million current-vintage permits were sold at $27.85 per ton, $1.05 more than the previous auction in November and a full $5.66 above the reserve price of carbon allowances set within California's carbon market.
The auction also sold out of all 7.6 million allowances for forward vintages, the 10th consecutive time it has done so, representing the greatest demands the market has seen in over 18 months.
"Last month's auction saw the strongest demand since August 2021, with the total volume of bids representing 1.84 times the amount on offer in the current vintage, while the forward vintage sale garnered bids totaling 2.43 times the sale volume," wrote Luke Oliver, head of climate investments at KraneShares, in the Climate Market Now blog.
California carbon allowances (CCAs) recently broke above the $29 threshold to hit $31.17 as of Friday, a gain of 4.46%. Continued sellouts of forward vintages at auctions are likely to lead to underlying price pressures looking ahead, creating a bullish outlook for investors and diversification opportunities for portfolios.
The KraneShares California Carbon Allowance ETF (KCCA ) offers targeted exposure to the joint California and Quebec carbon allowance markets and will benefit from California's aggressive push to reduce emissions alongside the increasing demand for allowances within the market.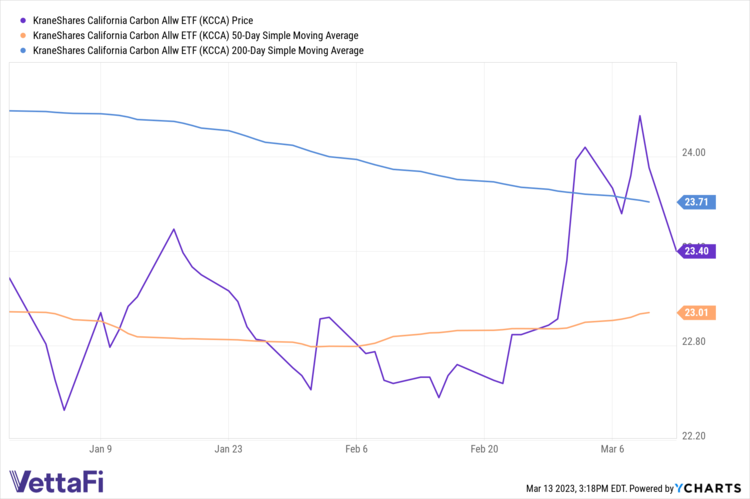 While investing in carbon markets provides diversification opportunities, the larger macro environment can influence price movements. KCCA is up 0.73% YTD as of March 13, 2023, is trading above its 50-day simple moving average (SMA), and has been above its 200-day SMA for most of the first half of March, though it dropped below again in trading on Monday as fear of bank failure contagion rattled markets. It's an ETF to watch; funds that cross above their SMAs are a buying signal for trend followers.
KCCA is a fund that offers exposure to the California cap-and-trade carbon allowance program, one of the fastest-growing carbon allowance programs worldwide, and is benchmarked to the IHS Markit Carbon CCA Index. The CCA includes up to 15% of the cap-and-trade credits from Quebec's market.
The index measures a portfolio of futures contracts on carbon credits issued by the CCA and only includes futures with a maturity in December in the next year or two while using a wholly owned subsidiary in the Cayman Islands to prevent investors from needing a K-1 for tax purposes.
KCCA carries an expense ratio of 0.78%.
For more news, information, and analysis, visit the Climate Insights Channel.
---
Content continues below advertisement