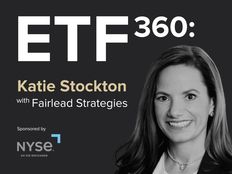 Technical analysis was the focus of this episode of "ETF 360" with VettaFi's head of research Todd Rosenbluth and Fairlead Strategies' founder and managing partner Katie Stockton.
The first half of 2022 saw the first real bear market cycle since 2008. The S&P 500 Index displayed the worst long-term momentum since 2008, leading to a series of breakdowns earlier this year. Stockton said the breakdowns were very top-down in orientation, meaning most stocks participated on the downside, which makes it more different for investors' portfolios, as well as idea generation.
When looking at the market from a technical analysis perspective, Stockton said the company starts top-down by looking at the major indexes in the U.S. and beyond. The firm also looks at what it considers to be macro technicals, such as Treasury yields and crude oil prices. Finally, it drills into the sector-relative strength work, which Stockton said is the best way to understand where the leadership is coming from — both on the upside and downside — and is also probably the best way to outperform benchwork. 
"If you're in the right sectors of the market, you just have a better chance of leveraging upside or downside depending on your goal, so we do spend a lot of time on that sector-relative strength work," Stockton said. "We also do what we consider to be bottom-up work, and for us, that means looking at a lot of individual stock charts and making sure that what we're seeing there is aligned with and supporting what we're seeing from a top-down perspective. Because it is a market of stocks, of course, and sometimes the S&P 500 is so swayed by the mega-caps that it really doesn't tell the full story of the market."
In a risk-on environment, when the market is trending higher, Stockton said the firm tends to use SPDR sector ETFs, or any thematic ETF, to leverage the sector-relative strength trends.
In a bear market cycle or downtrending tape, Stockton said the company tends to get more defensive sector performance. At times, depending on how bad the equity market has gotten, the firm is inclined to move into different asset classes. 
"For that, we're using ETFs representing short-term Treasuries, long-term Treasuries, gold prices, and similar assets that have less of a correlation to the equity market," Stockton said. "Then we can at least find a place to hide in these kinds of downdrafts. And for that, we're also using some of the State Street funds in our work."
Fairlead's strategies all come together with the Fairlead Tactical Sector ETF (TACK ), which came to market in March. TACK is designed to identify the sectors with the best momentum, as well as the sectors that lack any big overbought sell signals and have the best relative strength, meaning relative performance versus the broader market. 
"We're also a research and consulting business, and we're really known for our technical analysis research. With that, we came up with a methodology and a technical model that became the basis for TACK, which is a systematic approach to sector rotation," Stockton said.
For more ETF 360 videos, visit the ETF 360 Channel.